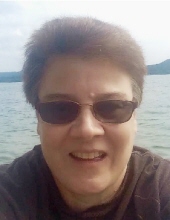 Obituary for Patricia "Kaye" Dean Hargett
Mrs. Patricia "Kaye" Dean Hargett, age 55, of Morehead, Kentucky, passed away Sunday morning, September 29, 2019 at University of Kentucky Healthcare Center in Lexington, Kentucky.

She was born August 24, 1964, in Carter County, Kentucky, a daughter of the late Kendall and Opal Dean and Eugene and Lucy Duncan Dean.

Kaye was of the Christian faith, and was employed as an inspector at SRG Global in Morehead, Kentucky. She enjoyed fishing, sewing, walking around Cave Run Lake, was an avid UK Basketball fan and loved spending time with her family, especially her son, Jonathan.

In addition to her parents, she was preceded in death by a sister and brother-in-law, Teresa (John) Mitchell, a brother, Scott Dean and a sister-in-law, Tammie Dean.

Kaye is survived by her only son, Jonathan Hargett of Morehead, Kentucky; six brothers and 5 sisters-in-law, Allen (Brenda) Dean, Randy (Judy) Dean and Jerry Dean all of Olive Hill, Kentucky, Reggie (Leda) Dean of Grayson, Kentucky, Genie (Janie) of Tennessee, and Mike (Elizabeth) Dean of Richmond, Kentucky; three sisters, Vivian Bond and Jody Dean both of Olive Hill, Kentucky and Goldie Dean of Georgia; one very special niece whom she loved like a sister, Terri and her husband, Mark Blevins of Olive Hill, Kentucky; and a life long friend, Ruth Ann Bair of Olive Hill, Kentucky. She also leaves many nieces and nephews, other family members and friends who will sadly miss her.

Funeral services will be held at 2 p.m. Thursday, October 3, 2019 at Globe Funeral Chapel in Olive Hill, Kentucky, with Brother Terry Dean officiating. Interment will follow in the Dean Family Cemetery in Carter County, Kentucky.

Friends may visit from 6 p.m. to 9 p.m. Wednesday, October 2, 2019 and after 9 a.m. Thursday, at Globe Funeral Chapel, 17277 West US Highway 60, Olive Hill, Kentucky 41164.

Mark Blevins, Tyler Gillispie, Michael Dean, Blake Dean, Allen Dean, Randy Dean and Jerry Dean will serve as pallbearers.