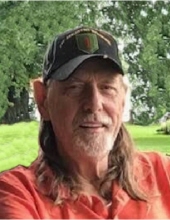 Obituary for Larry Alton McClanahan
Mr. Larry Alton McClanahan, age 69, of Vanceburg, Kentucky, passed away Wednesday, September 25, 2019, at the Lexington VA Medical Center in Lexington, Kentucky.

He was born March 25, 1950, in Mason County, Kentucky, a son of the late Russell and Elizabeth McElfresh McClanahan.

Larry attended Union Baptist Church and was retired from Browning Manufacturing. He proudly served our country in the United States Army and enjoyed cooking, working outside, loafing and spending time with his family.

In addition to his parents, he was preceded in death by two brothers, Johnny P. Davis and James Davis; two sisters, Sylvia Fryman and Yolanda McClanahan; and one uncle, Alton McElfresh.

Larry is survived by one son, Mark Fetters of South Point, Ohio; two daughters, Jennifer Bellamy of Tollesboro, Kentucky and Jacqueline McClanahan of Vanceburg, Kentucky; three grandchildren; one great grandchild; three brothers, Jacob McClanahan of Eau Claire, Wisconsin, John Gulley of Sanders, Kentucky and Joe Davis of Oklahoma City, Oklahoma; six sisters, Kimberly Lightner of Vanceburg, Kentucky, Dotty Luegering of Port Charlotte, Florida, Debbie Geisler of Madison, Indiana, Glenda Sison of Seymour, Indiana, Linda Oberholtzer of Madison, Indiana and May Kahfer of New Albany, Indiana; one brother-in-law, Allan Fryman of Maysville, Kentucky; and one uncle, Thomas Owen. He also leaves many other family members and friends who will sadly miss him.

There will be a memorial service at a later date. Tollesboro Funeral Home & Cremation Services in Tollesboro, Kentucky, is caring for all arrangements for Mr. Larry Alton McClanahan.