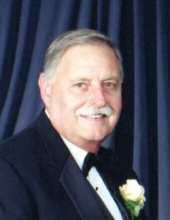 Obituary for Carlos Gayle Patrick
Mr. Carlos Gayle Patrick, age 75, of Olive Hill, Kentucky, entered into rest, Monday morning, September 23, 2019, at St. Claire Healthcare Center in Morehead, Kentucky.

He was born June 19, 1944, in Carter County, Kentucky, a son of the late Russell and Beuna Christine Stephens Patrick.

Carlos was a welder and pipefitter from pipeliner's Local #798 out of Tulsa, Oklahoma. He was very proud of his trade and helped others to get into the trade as well. Carlos retired after 38 years and enjoyed spending time with his loving family, which he adored. He later took up the hobby of restoring old tractors and enjoyed the challenge of making them like new again.

Carlos was saved and baptized recently and wanted everyone to know the he was ready to go be with the Lord. Carlos was very caring, loved helping people and believed in the Golden Rule: "Do unto to others as you would have them do unto you."

In addition to his parents, he was preceded in death by one brother, Frank Patrick; one sister, Jolena Patrick; and two brothers-in-law, Earl King and Steven Burchett.

Carlos is survived by his wife of 55 years, Nancy Offill Patrick; two sons, Chris Patrick (Dannie Jo) of Olive Hill, Kentucky, and Chad Patrick (Nella) of Naples, Florida; three grandchildren, Christopher Patrick, Matthew Patrick and Madison Patrick, all of Olive Hill, Kentucky; two sisters, Barbara King of Olive Hill, Kentucky, and Nancy Burchett of Grayson, Kentucky; and one sister-in-law, Mildred Patrick of Morehead, Kentucky. He also leaves many other family members and friends who will sadly miss him.

Funeral services will be held at 11 a.m. Thursday, September 26, 2019, at Globe Funeral Chapel in Olive Hill, Kentucky, with Brother David Rayburn and Brother Dale Richmond officiating. Burial will follow in the McFerren Cemetery in Olive Hill, Kentucky.

Friends may visit from 6 p.m. to 9 p.m. Wednesday, September 25, 2019, and after 9 a.m. on Thursday at Globe Funeral Chapel, 17277 West Highway US 60, Olive Hill, Kentucky 41164.

Chris Patrick, Chad Patrick, Christopher Patrick, Matthew Patrick, Bobby Patrick, Mike Patrick, Wayne Hargett and Claude Bradley will serve as pallbearers.