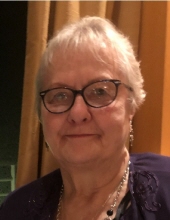 Obituary for Oleta Carol Jefferson
Mrs. Oleta Carol Jefferson, age 71, of Vanceburg, Kentucky, went to be with the Lord, Monday evening, July 1, 2019, at the University of Kentucky Medical Center in Lexington, Kentucky, surrounded by her children and grandchildren.

She was born May 3, 1948, in Salt Lick, Kentucky, a daughter of the late Rev. Jesse McCleese and her mother.

Oleta Carol was a member of the Adams Plank Enterprise Baptist Church and was very close with her church family, whom she tagged along with to go to different churches. She graduated from Lewis County High School in 1965 and migrated to Michigan where she lived with her husband for 17 years, before returning to Kentucky. Oleta Carol succeeded in attaining two goals in life which she had dreamed about since high school. After moving back to Kentucky she enrolled in college at Morehead State University and received a Bachelor's degree in Nursing, later became a teacher at Foster Meade Career and Tech Center in Vanceburg, Kentucky, and taught Health Science for 12 years and then retired.
In addition to her parents, she was preceded in death by her husband of 51 years, David Jefferson; her mother-in-law, Carrie Jefferson; her father-in-law, J.L. Jefferson; one brother-in-law, Daniel Jefferson; and one sister-in-law, Evelyn Pinnerud.

Oleta Carol is survived by three children, Libby Denise Jefferson (Roger Moore) of Dry Ridge, Kentucky, Kimberly Lynn (Phillip) Waddell of Richmond, Kentucky, and Anthony David (Jennifer) Jefferson of Catlettsburg, Kentucky; two granddaughters, Eliana Grace Jefferson, daughter of Libby Jefferson and Roger Moore and Avynlee Jefferson, daughter of Anthony and Jennifer Jefferson; one sister, Sandra (Kenneth) Goddard of LeRoy, Michigan, two special people in her life, Gary and Fredia Plank, who helped her with all her treatments and whatever she needed and all of her church family whom she loved very dearly; her husband's family; six brothers; and two sisters. She also leaves many other family members and friends who will sadly miss her.

Funeral services will be held at 1:30 p.m. Saturday, July 6, 2019, at Adams Plank Enterprise Baptist Church with Brother Carlos Bowman and Brother Randy Waggoner officiating. Burial will follow in the Caudill Cemetery on Old Sportsman Road in Rowan County, Kentucky.

Friends may visit from 6 p.m. to 8 p.m. Friday, July 5, 2019, at Dickerson Funeral Home, 110 West Second Street, Vanceburg, Kentucky 41179. Mrs. Jefferson will lie in state one hour prior to the service at Adams Plank Enterprise Baptist Church on Saturday.

Jim Kirkland, Marty Bihn, Paul Lambercht, Gary Plank, Rocky Stacy, Tom McCleese, and Rev. Lonnie Eden will serve as pallbearers.