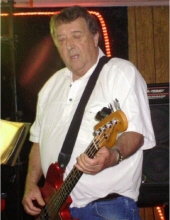 Obituary for Bernard Lee Stallard
Mr. Bernard Lee Stallard, age 72, of Olive Hill, Kentucky, passed away Sunday afternoon, February 24, 2019, at his residence.

He was born January 15, 1947, in Carter County, Kentucky, a son of the late Kermit Green and Blanche Cooper Stallard.

Bernard was of the Christian faith and and he enjoyed playing music, fishing and spending time with his family, especially with his grandchildren.

In addition to his parents, he was preceded in death by one sister, Frances Kiser.

Bernard is survived by his wife of 52 years, Donna Irene Dixon Stallard; one son, Marty Stallard (Stephanie) of Olive Hill, Kentucky; two daughters, Bernetti Stallard and Rhonda Patton, both of Olive Hill, Kentucky; six grandchildren, Briannia Cruz, Kayla Stamper, Ryan Stallard, Kyle Smith, Cody James and Bryce James; three great grandchildren, Olivia Cruz, Zoey Stamper and Emma Vanover; and two sisters, Lorene Duvall (David) of Olive Hill, Kentucky, and Judy Reed (Rudy) of Grayson, Kentucky. He also leaves many other family members and friends who will sadly miss him.

Funeral services will be held at 11 a.m. Thursday, February 28, 2019 at Globe Funeral Chapel in Olive Hill, Kentucky with Brother Rudy Reed and Brother Landon Copley officiating. Burial will follow in the Stallard Cemetery in Olive Hill, Kentucky.

Friends may visit from 6 p.m. to 9 p.m. Wednesday, February 27, 2019 and after 9 a.m. Thursday at Globe Funeral Chapel, 17277 West US Highway 60, Olive Hill, Kentucky 41164.

Ryan Stallard, Kyle Smith, Cody James, Bryce James, Cody Stamper and Nathan Fultz will serve as pallbearers. Ron Blevins, Tracy Dickerson, Ronnie Erwin and Gary Bond will serve as honorary pallbearers.