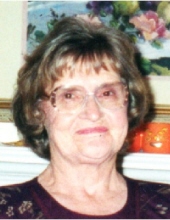 Obituary for Ethel Hartley Collins
Mrs. Ethel Hartley Collins, age 88, of Garrison, Kentucky, passed away peacefully, with family at her side, Saturday, February 9, 2019 at 7:48 a.m. at Hempstead Manor in Portsmouth, Ohio.

She was born October 3, 1930, in Carter County, Kentucky, a daughter of the late Roy and Julia Bloomfield Hartley.

Ethel was a member of the Emmanuel Baptist Church and along with her husband operated Collins Grocery in Garrison, Kentucky where for over 38 years she enjoyed visiting with her many friends in her community. She was known to have a green thumb and she enjoyed working with her flowers and working with her husband on their farm.

In addition to her parents, she was preceded in death by her husband of 47 years, Ralph W. Collins; four brothers, Donald Hartley, Vernon Hartley, Elza Hartley and Watt Hartley; and two sisters, Laura Mae Hartley Strausbaugh and Lena Hartley Kamer.

Ethel is survived by two sons, John Allen Collins (Marsha) of Garrison, Kentucky and Sherman Dale Collins (Sherri) of Franklin Furnace, Ohio; three daughters, Faye Collins Raines (Fred) of Abbeville, South Carolina, Wilma Collins Kuykendall (Phil) and Rebecca Mae Collins all of Lexington, Kentucky; 10 grandchildren, Carrie R. Cavanaugh, Kristin M. Raines, Amanda R. Morgan, Patrick Collins, Corey Collins, Lacey C. Patton, Jesse C. Kuykendall, Rachel H. Kuykendall, Andrew D. Collins and Melissa L. Collins; 18 precious great grandchildren; and two brothers, Thurman Hartley and Marvin Hartley. She also leaves many other family members and friends who will sadly miss her.

Funeral services will be held at 1 p.m. Monday, February 11, 2019 at Globe Family Funeral Chapel in Garrison, Kentucky with Brother Oval Osborne officiating. Burial will follow in the Waring Cemetery in Garrison, Kentucky.

Friends may visit from 10 a.m. to 1 p.m. Monday, February 11, 2019 at Globe Family Funeral Chapel, 103 Dudley Avenue, Garrison, Kentucky.

Family and friends will serve as pallbearers.