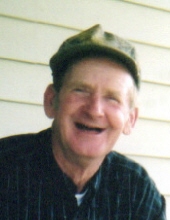 Obituary for Sammie Arther Stevens
Mr. Sammie Arther Stevens, age 79, of Emerson, Kentucky, went home to be with the Lord, Thursday morning, July 19, 2018, at his residence surrounded by his loving family.

He was born September 15, 1938, in Lewis County, Kentucky, a son of the late Ashby and Goldie Riley Stevens.

Sammie was a member of the Old Trace Community Church for over 45 years and worked as a farmer. He enjoyed going to church, working, raising cattle, going to stock sales and spending time with his family and friends, especially with his children and grandchildren.

In addition to his parents, he was preceded in death by one son, Stoney Wayne Stevens; one brother, Charles L. Stevens; and one special aunt, Aunt Violet.

Sammie is survived by his wife of 58 years, Linda "Oma" Hall Stevens; one son and daughter-in-law, Lefty "Butch" Stevens and Becky of Emerson, Kentucky; two daughters and sons-in-law, Tammy Conley and Denny and Jeanie Clary and Jim, all of Emerson, Kentucky; seven grandchildren, A.J. Conley, Nathan Conley, Nichole Conley, Ryan Conley, Samuel Stevens, Samantha Stevens and Rebecca Stevens; two great grandchildren, Talynn Burton and Gage Conley; two brothers and two sisters-in-law, Steve Stevens and Laura and Betty Stevens, all of Emerson, Kentucky, and Mitchell Stevens of Vanceburg, Kentucky; four sisters and three brothers-in-law, Mary Bond, Zelma Roe and Bradley, and Voline Bradley and Bill, all of Olive Hill, Kentucky, and Shirley Roe and Mitch of Emerson, Kentucky. He also leaves many other family members, church family and friends who will sadly miss him.

Funeral services will be held at 2 p.m. Sunday, July 22, 2018, at Globe Funeral Chapel in Olive Hill, Kentucky, with Brother Bobby Burge, Brother Clyde Holbrook, Brother Jim Porter, and Brother Monroe Craig, Brother Ronnie Riggs officiating. Burial will follow in the Stevens Family Cemetery in Emerson, Kentucky.

Friends may visit from 4 p.m. to 9 p.m. Saturday, July 21, 2018, and after 9 a.m. on Sunday at Globe Funeral Chapel, 17277 West Highway US 60, Olive Hill, Kentucky 41164.

Samuel Stevens, Nathan Conley, Denny "A.J." Conley Jr., Ryan Conley, Steve Stevens, Jeff Roe, Brian Roe, Johnny Zornes, and Dale Clark will serve as pallbearers. Leon Riley, Lon Zornes, Carl Fannin, Bradley Roe, Bill Bradley, Grady Evans, Mike Evans, Hunter Reffitt, Terry Helderbrand, Kevin Helderbrand, Randy Helderbrand, many other nephews, friends, stock sale buddies, and church family to numerous to mention will serve as honorary pallbearers.