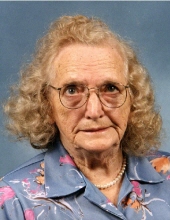 Obituary for Georgia Conn Pelfrey
Mrs. Georgia Conn Pelfrey, age 93, of Morehead, Kentucky, passed away Tuesday afternoon, July 10, 2018, at her residence.

She was born July 13, 1924, in Carter County, Kentucky, a daughter of the late Harve Conn and Minda Tomlyn Conn.

Georgia was of the Church of God faith and she enjoyed gardening, going to church and spending time with her family and friends.

In addition to her parents, she was preceded in death by her husband, Melvin Pelfrey; three children, Arvil Pelfrey, Wilma Wease, and Darlene Pelfrey; seven brothers, Clayton Conn, Eugene Conn, Luther Conn, Arthur Conn, Russell Conn, Chalmer Conn, and Ballard Conn; and three sisters, May Patrick, Bertha Ruley, and Nellie Evans.

Georgia is survived by one son, James Pelfrey of Lexington, Kentucky; two daughters, Brenda Pelfrey of Columbus, Ohio, and Dianne Carpenter of Morehead, Kentucky; six grandchildren, Tessa Pelfrey, Johnny Brewster, Leroy Wease, Mary Wease, Melissa Yates, and Brandon Carpenter; and 16 great grandchildren, Devon Beair, Jared Beair, Dakota Beair, Johnny Blake Brewster, Charlie Brewster, Hailey Brewster, Presley Brewster, Cody Brewster, Braydon Carpenter, Savannah Carpenter, Kendra Carpenter, Brantley Carpenter, Hunter Carpenter, McKenna Carpenter, Kylee Rawlings, and Audrey Rawlings. She also leaves many other family members and friends who will sadly miss her.

Funeral services will be held at 1 p.m. Saturday, July 14, 2018, at Globe Funeral Chapel in Olive Hill, Kentucky, with Brother Bobby Day officiating. Burial will follow in the Conn Cemetery in Olive Hill, Kentucky.

Friends may visit from 12 noon to 1 p.m. Saturday, July 14, 2018, at Globe Funeral Chapel, 17277 West Highway US 60 Olive Hill, Kentucky 41164.

Family and friends will serve as pallbearers.