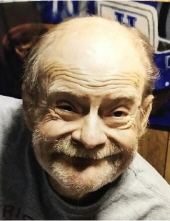 Obituary for Uncle Harold Cassidy
Uncle Harold Cassidy, age 64, of Wheelersburg, Ohio, passed away Sunday, July 8, 2018, at his residence.

He was born July 18, 1953, in Scioto County, Ohio, a son of the William Isaac Cassidy and Beulah Wadkins Cassidy.

Uncle Harold attended the Lloyd Ridge Pentecostal Church and he enjoyed baseball cards, collecting UK memorial and his family was most important to him.

In addition to his parents, he was preceded in death by one brother, James Cotton Cassidy, and five sisters, Linda Jewell, Bessie Rister, Roxey Davis, Ellen Rister, and Nancy Rister.

Uncle Harold is survived by one brother and sister-in-law, Mark and Linda Cassidy of South Shore, Kentucky. He also leaves many other family members and friends who will sadly miss him.

Funeral services will be held at 11 a.m. Wednesday, July 11, 2018, at Globe Family Funeral Chapel in Garrison, Kentucky, with Brother Anthony Rister and Brother Mark Cassidy officiating. Burial will follow in the Spy Run Cemetery in Garrison, Kentucky.

Friends may visit from 6 p.m. to 8 p.m. Tuesday, July 10, 2018, and after 9 a.m. on Wednesday at Globe Family Funeral Chapel, 103 Dudley Avenue, Garrison, Kentucky 41141.

Garry Jewell, William Lambert, Matthew Kittles, Beulah Fraley, Terry Jewell, and Richard Jewell will serve as pallbearers.