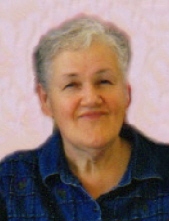 Obituary for Betty "Irene" McCleese
Betty "Irene" McCleese, age 74, of Morehead, Kentucky, passed away Wednesday evening, June 6, 2018, at St. Claire Regional Medical Center in Morehead, Kentucky.

She was born July 22, 1943, in Lewis County, Kentucky, a daughter of the late Russell Arnold and Margaret (Sparks) McCleese.

Irene was a member of the Holly Fork Freewill Baptist Church and she enjoyed going to church, reading her bible and spending time with her family and church family.

In addition to her parents, she was preceded in death by four brothers, Hobert McCleese, Harold McCleese, Davy McCleese, and Billy Joe McCleese.

Irene is survived by one son, Terry McCleese of Waddy, Kentucky; one daughter, Georgetta McCleese of Morehead, Kentucky; two brothers, Clayton McCleese of Warsaw, Indiana, and Marty McCleese of Morehead, Kentucky; and four sisters, Helen Woods of Peebles, Ohio, Fredia Plank of Vanceburg, Kentucky, Ruth McCleese of Versailles, Kentucky, and Linda McCleese of Burlington, Kentucky. She also leaves many other family members and friends who will sadly miss her.

Funeral services will be held at 11 a.m. Monday, June 11, 2018, at Dickerson Funeral Home in Vanceburg, Kentucky, with Brother Todd Frazier, Brother Jim Porter, and Brother Monroe Craig officiating. Burial will follow in the Thomas Cemetery in Lewis County, Kentucky.

Friends may visit from 6 p.m. to 8 p.m. Sunday, June 10, 2018, and after 9 a.m. on Monday at Dickerson Funeral Home, 110 West Second Street, Vanceburg, Kentucky 41164.

Greg McCleese, Nathan Plank, Stephen Hanson, Robbie McCleese, Tyler McCleese, and Kevin Stidam will serve as pallbearers.