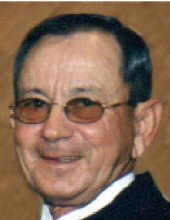 Obituary for Robert Eugene Thomas
Mr. Robert Eugene Thomas, age 78, of Tollesboro, Kentucky, passed away Wednesday evening, June 6, 2018, at the Hospice of Hope Kenton Pointe in Maysville, Kentucky.

He was born July 22, 1939, in Lewis County, Kentucky, a son of the late Herbert Eugene and Hazel Warder Thomas.

Robert was a member of the Canaan Church and enjoyed hunting, fishing and spending time with his family especially his great grandsons, Ayden Cooper and Trace Tolliver.

In addition to his parents, he was preceded in death by one son, Mike Thomas on January 8, 2018; one sister, Rosemary Davis; and one grandson, Avery Mason.

Robert is survived by his wife, Anna Brown Thomas; two daughters, Barbara Griffey (Romie) of Tollesboro, Kentucky and Jessie Osani of Hobart, Indiana; five grandchildren, Chuck DeVaughn, Bobbi Cooper, Michael B. Thomas, Derrick Thomas and Brooke Mason; four great grandchildren, Ayden Cooper, Molli Thomas, Rikki Thomas and Bentley Mason; six great-great grandchildren; one brother, Daymond Thomas of Tollesboro, Kentucky; and one sister, Donna Roberts of Tollesboro, Kentucky. He also leaves many other family members and friends who will sadly miss him.

Funeral services will be held at 5 p.m. Monday, June 11, 2018 at Dickerson Funeral Home in Vanceburg, Kentucky with Brother Bryan Williams officiating. Burial will follow in the Mt. Carmel Cemetery in Fleming County, Kentucky.

Friends may visit from 3 p.m. to 5 p.m. Monday, June 11, 2018, at Dickerson Funeral Home, 110 West Second Street, Vanceburg, Kentucky 41179.

Chuck Devaughn, Michael B. Thomas, Ayden Cooper, Derrick Thomas, Trace Tolliver and Gary Hafer will serve as pallbearers.

Donations can be made to Hospice of Hope.