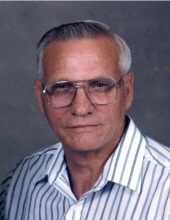 Obituary for Kenneth "Arvin" Leadingham
Mr. Kenneth "Arvin" Leadingham, age 83, of Olive Hill, Kentucky, passed away Thursday afternoon, May 24, 2018, at his residence.

He was born December 18, 1934, in Carter County, Kentucky, a son of the late Everett and Ethel Boggs Leadingham.

Arvin was of the Old Regular Baptist faith and he enjoyed going to church, wood working, doing yard work and spending time with his family and friends.

In addition to his parents, he was preceded in death by one son, Gary Randall "Randy" Leadingham; three brothers, Columbus Leadingham, Walter Lee Leadingham, and Everett Vernon Leadingham; and four sisters, Pearline Pennington, Nadine Bowling, Ollie Blankenbecker, and Floris Jones.

Arvin is survived by his wife of 56 years, Ida Mullins Leadingham; one son, George Kevin Leadingham of Olive Hill, Kentucky; one very special daughter-in-law, Jody Leadingham of Olive Hill, Kentucky; three grandchildren, Josh Leadingham, Lee Leadingham, and Brandon Leadingham; three step grandchildren; three great grandchildren; one step great grandchild; one sister, Maxine Blankenbeckler of Michigan; three sisters-in-laws, Wilma Leadingham, Lilly Leadingham, and Juanita Leadingham, all of Olive Hill, Kentucky; and one very special nephew, John Bowling. He also leaves many other family members and friends who will sadly miss him.

Funeral services will be held at 11 a.m. Tuesday, May 29, 2018, at Globe Funeral Chapel in Olive Hill, Kentucky, with Elder Terry Bryant, Elder Junior Ruggles, and Elder John Bowling officiating. Burial will follow in the Pleasant Valley Cemetery in Olive Hill, Kentucky.

Friends may visit from 6 p.m. to 9 p.m. Monday, May 28, 2018, and after 9 a.m. on Tuesday at Globe Funeral Chapel, 17277 West Highway US 60, Olive Hill, Kentucky 41164.

Family and friends will serve as pallbearers.