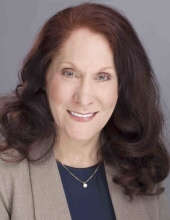 Obituary for Melinda Joy Howes Jacobs
Melinda Joy (Howes) Jacobs, born August 8, 1958 in Ashland KY passed away Saturday, May 12, 2018.

A lover of horses and animals, Melinda has resided in Townsend since 2012. She Graduated from Trevecca Nazarene College (Nashville TN) and University of Alabama Law School (Tuscaloosa AL, 1984). Melinda has devoted her career to the field of special education and disability law, working in government, private publishing, and the representation of public school agencies as a private practitioner.

After receiving her law degree from the University of Alabama in 1984, Ms. Jacobs returned to Tennessee and accepted a position as an attorney in the Office of Special Education Programs for the Tennessee Department of Education. In 1989, Melinda joined LRP Publications as Associate Publisher for Education and Disability Publications. She returned to Tennessee in 1996, and joined a small special education law firm representing clients throughout the State. In 1999, Ms. Jacobs opened The Law Office of Melinda Jacobs, exclusively representing school districts in matters pursuant to the Individuals with Disabilities Education Act (IDEA), Section 504 of the Rehabilitation Act of 1973, Title II of the Americans with Disabilities Act (ADA), and related state and federal laws. In addition to her law practice, Melinda is a highly sought-after public speaker on special education law.

Since 1991, she has presented to thousands of attendees at national, state, regional, and local venues. Melinda's "down to earth" and practical presentation style, combining humor and song parodies, makes legal information accessible and understandable for educators, parents, and other professionals in the field. Melinda enhanced the lives of thousands and was incredibly generous to everyone she knew.

Preceded in death by her father, Henry Stephen Howes Jr. She is survived by her mother, Geneva Joy Phillips; brothers, Steve (Kim) Howes and Todd Howes; nieces and nephews, Amanda Fickbohm, Adam Howes, Braeden Howes; Great nieces, Mia Howes, Adalynn Howes; sister-in-law; Kristi Howes.

At the family's request there will be a private visitation and burial.

Globe Funeral Chapel in Olive Hill, Kentucky, is caring for all arrangements.

Condolences may be sent to the family at www.globefc.com.