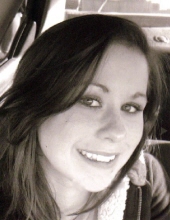 Obituary for Dalyn Callihan
Dalyn Callihan, age 25, of Seneath, Missouri passed away unexpectedly on Tuesday, April 24, 2018 at the Regional One Medical Center in Memphis, Tennessee.

She was born April 24, 1993 in Kennett, Missouri to Toby and Christene (Carnal) Callihan.

Dalyn was a baptized member of The Church of Jesus Christ of Latter-Day Saints. Although she called Missouri home, Kentucky always held a special place in her heart as she spent the summers visiting her grandparent's in Olive Hill. She was a beautiful young lady with a fun, vivacious spirit, who made friends easily. Everyone that knew her loved her. She was gifted in creative writing, loved music, loved the color purple, and loved her Grandma's cooking. She was a student at Three Rivers Community College in Kennett, Missouri where she hoped to follow in her grandmother and mom's footsteps and one day become a nurse. She was a daddy's girl through and through, her smile and twinkle in her eye always had him wrapped around her finger. Dalyn continued giving of herself even after death as an Organ Donor. She gave others the gift of sight and a heart to love. May the recipients of those gifts follow her example and love as unconditionally as she did, and see the good in others and the beauty in the world.

Dalyn is the paternal granddaughter of Ronnie and Juanita Callihan of Olive Hill, Kentucky and the maternal granddaughter of Gail Gilbert-Carnal of Kennett, Missouri. She leaves behind two adorable children, Tori and Toby Ray who she loved with all her heart. She is also survived by two brothers, Spencer Callihan and Patrick Callihan both of Olive Hill, Kentucky, and an identical twin sister, Kelsi Callihan-Hastings of Seneath, Missouri. She was preceded in death by her maternal grandfather, David Carnal.


A Celebration of Life Memorial Service will be held in her honor on Saturday, May 5th at 2pm at The Church Of Jesus Christ of Latter-Day Saints at Pleasant Valley, Kentucky. A luncheon will follow at the Pleasant Valley Fellowship Hall. Presiding over the service is Kevin Osbourne, Branch President of the Olive Hill Branch of The Church of Jesus Christ of Latter-Day Saints.