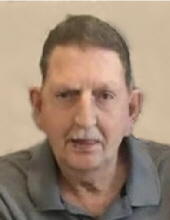 Obituary for Johnny Caudill
Mr. Johnny Caudill, age 79, of Mansfield, Ohio, formerly of Olive Hill, Kentucky, passed away Friday, March 30, 2018, at Ohio Health Mansfield Hospital in Mansfield, Ohio.

He was born April 12, 1938, in Floyd County, Kentucky, a son of the late Alfred Caudill and Georgia Porter Nelson Davis.

Johnny proudly served his country in the United States Army and he enjoyed fishing, hunting, watching old westerns and spending time with his family and friends. He also loved spending time with his loyal companion of 17 years, his dog, Cricket.

In addition to his parents, he was preceded in death by his wife of 46 years, Sarah Bradley Caudill; four children, Gary "Tom Dooley" Bradley, Stephanie Caudill, Darrell "Iggy" Caudill, and Gaston "Chewy" Caudill, and three sisters, Sarah Mae Hatfield, Joann Robinson, and Katherine Nelson.

Johnny is survived by three sons, Henry "Drew" Caudill and Elwood "Dumpy" Caudill (Danielle), both of Mansfield, Ohio, and George Darren Caudill (Barb) of Olive Hill, Kentucky; two daughters, Juanita Moore (Dennis) of Shelby, Ohio, and Bonita Owens (Michael) of Mansfield, Ohio; 18 grandchildren; 9 great grandchildren; and two sisters, Peggy Glover of Morehead, Kentucky, and Margarett Lewis of Frankfort, Kentucky. He also leaves many other family members and friends who will sadly miss him.

Funeral services will be held at 1 p.m. Wednesday, April 4, 2018, at Globe Funeral Chapel in Olive Hill, Kentucky, with Pastor Hank Webb and Pastor Paul Staton officiating. Burial will follow in the Bradley Cemetery in Carter County, Kentucky, with full military honors presented by the Olive Hill American Legion Post #138.

Friends may visit from 5 p.m. to 8 p.m. Tuesday, April 3, 2018, and after 9 a.m. Wednesday at Globe Funeral Chapel, 17277 West US Highway 60, Olive Hill, Kentucky 41164.

Henry "Drew" Caudill, Darren "George" Caudill, Elwood "Dumpy" Caudill, Dustin Moore, Gary Owens and Bradley Caudill will serve as pallbearers. Chase Caudill will serve as a honorary pallbearer.