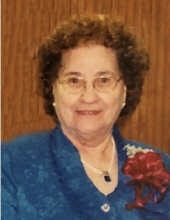 Obituary for Garneda M. Thoroughman Ginn
Mrs. Garneda M. Thoroughman Ginn, age 88, of Vanceburg, Kentucky, passed away Saturday evening, March 3, 2018, at Hospice of Hope Kenton Pointe in Maysville, Kentucky.

She was born September 1, 1929, in Lewis County, Kentucky, a daughter of the late Ben and Rosie Fetters Thoroughman.

Garneda was a member of Shepards Chapel and was a homemaker. She enjoyed quilting, embroidering, shopping, cooking, traveling, and spending time with her family and friends.

In addition to her parents, she was preceded in death by two grandchildren, Eric Dean Ginn and Alexis J. Thompson; eight brothers, Leonard Thoroughman, Roy Thoroughman Jr., Bill Thoroughman, George Thoroughman, Cecil Thoroughman, Leon Thoroughman, Glen Allen Thoroughman and Harlan Thoroughman; two sisters, Jewell Mae Gilliam and Anna Ruth Thoroughman; and one son-in-law, Mike Ison.

Garneda is survived by her husband of 64 years, Samuel "Sam" Ginn; four sons, Dean Ginn (Melissa), Keith Ginn (Lorie), Rodney Ginn, and Kevin Ginn, all of Vanceburg, Kentucky; three daughters, Linda Darlene Morris (John) of Maysville, Kentucky, Barbara Ison of Morehead, Kentucky, and Vicky Thompson (Whitney) of Winchester, Kentucky; 18 grandchildren; 27 great grandchildren; four brothers, Bruce Thoroughman, Delbert Thoroughman, and Eddie Thoroughman, all of Vanceburg, Kentucky, and Donald Ray Thoroughman of Bucyrus, Ohio; and two sisters, Nannie Hobbs of Quincy, Kentucky, and Louise Bloomfield of Garrison, Kentucky. She also leaves many other family members and friends who will sadly miss her.

Funeral services will be held 11 a.m. Thursday, March 8, 2018, at Dickerson Funeral Home in Vanceburg, Kentucky, with Brother Jack Hinton and Brother Forest Hedges Jr. officiating. Burial will follow in the Lewis County Memory Gardens in Lewis County, Kentucky.

Friends may visit from 6 p.m. to 8 p.m. Wednesday, March 7, 2018 and after 9 a.m. on Thursday at Dickerson Funeral Home, 110 West Second Street, Vanceburg, Kentucky 41179.

Rodney Ginn, Ben Ginn, Shane Ison, Mark Ginn, Nick Ginn, Daniel Morrison, Justin Ginn and Blake Ginn will serve as pallbearers.