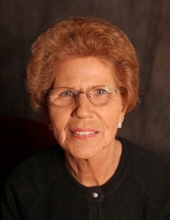 Obituary for Donna Sue Waggoner Gee
Mrs. Donna Sue Gee, age 81, went home to be with her Lord and Savior Jesus Christ, Monday evening, February 5, 2018, at her residence surrounded by her loving family.

She was born October 24, 1936, in Carter County, a daughter of the late Charles and Elsie Waggoner.

Donna was a member of the First Christian Church, where for decades she taught Sunday school to all ages. Mrs. Gee was a retired teacher with Carter County Schools after a 36 year career of teaching, guiding and loving literally thousands of students.

In addition to her parents, Donna was preceded in death by her loving husband of 48 years, Paul Gee; six brothers, Robert (Irene) Waggoner, Tom (Cora) Waggoner, Clyde (Elizabeth) Waggoner, Roy (Betty) Waggoner, Howard (Bonnie) Waggoner, Willard (Mildred) Waggoner; and one sister, Joy (Wyatt) Conley.

She is survived by her son, David Gee of Olive Hill, Kentucky; two grandchildren, Courtney (Patrick) Hollingsworth and Corey (Kelsey) Gee; two great grandchildren, Kaylee Hollingsworth, Kade Hollingsworth, and was anxiously awaiting the arrival of a third great grandchild, Avalia Gee; one sister, Fannie Gravel; a loving sister-in-law, Othelle Lykins; and a very special caregiver, Mary Jordan. She also leaves behind a host of family, friends, and former students that will cherish fond memories of her.

Funeral services will be held at 11 a.m. Friday, February 9, 2018, at Globe Funeral Chapel in Olive Hill, Kentucky, with Donna Sue's grandchildren that she adored, Courtney and Corey will be officiating. Burial will follow at the McFerrin Cemetery in Olive Hill, Kentucky.

Friends may visit from 5 p.m. to 8 p.m. Thursday, February 8, 2018, and after 9 a.m. on Friday at Globe Funeral Chapel, 17277 West Highway US 60, Olive Hill, Kentucky 41164.

Corey Gee, Patrick Hollingsworth, Donnie Lykins, Kenny Aaronhalt, Michael Hollingsworth, and David Gee will serve as pallbearers. Kade Hollingsworth will serve as a honorary pallbearer.

In lieu of flowers monetary donations may be sent to the First Christian Church, P.O. Box 538, Olive Hill, Kentucky 41164.