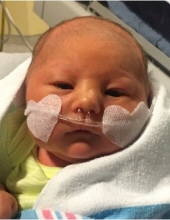 Obituary for Infant Gabriel Rickett
Infant Gabriel Tyler Corns of Quincy, Kentucky, passed away Sunday morning, January 28, 2018, at the Cincinnati Childrens Hospital in Cincinnati, Ohio.

He was born January 23, 2018, in Cincinnati, Ohio, a son of Tyler Corns and Taylor Rickett.

In addition to his parents, he is survived by his maternal grandmother, Jamie Robinson, and his paternal grandparents, Jennifer and Nicholas Hernandez, and Joseph and Joanna Corns. He also leaves many other family members who will sadly mourn his passing.

A graveside service will be held at 11 a.m. Friday, February 2, 2018, at the Crystal Dawn Cemetery in Lewis County, Kentucky, with Brother Tony Corns officiating.

Dickerson Funeral Home in Vanceburg, Kentucky, is caring for all arrangements for Infant Gabriel Tyler Corns.