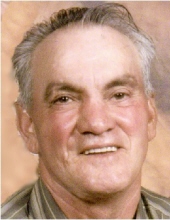 Obituary for John William Logan
Mr. John William Logan, age 73, of Olive Hill, Kentucky, passed away Wednesday, January 24, 2018, at Southern Ohio Medical Center in Portsmouth, Ohio.

He was born June 19, 1944, in Lewis County, Kentucky, a son of the late Belvin and Emily Sexton Logan.

John was a member of the Flat Fork Church of God. He had been saved since March 14, 1994 and loved going to church and bragging on the Lord. John enjoyed being outdoors, coon hunting, farming, cat fishing and being with people, and making them laugh.

In addition to his parents, he was preceded in death by four brothers, Clayton Logan, Arthur Logan, Arnold Logan and Delmar Logan Jr.; and one sister, Lucille Jessie.

John is survived by his wife of 41 years, Betty Hall Logan; five sons, William Logan (Connie) of Olive Hill, Kentucky and John Eric Logan of Morehead, Kentucky, James Darrell Fultz (Jeannie), Christopher David Fultz (Kim) all of Olive Hill, Kentucky and Samuel Rayburn (Yolanda) of Mt. Sterling, Kentucky; three daughters, Tammy Lynn McClurg (Todd) and Pamela Jean Leadingham (Mike) all of Morehead, Kentucky, Mary Ann Rayburn (Darby) of Olive Hill, Kentucky; 11 grandchildren; eight great grandchildren; and two sisters, Minnie Roberts (Marvin) of Grayson, Kentucky and Gracie Perak (Paul) of Chesterton, Indiana. He also leaves many other family members and friends who will sadly miss him.

Funeral services will be held at 11 a.m. Sunday, January 28, 2018 at Globe Funeral Chapel in Olive Hill, Kentucky with Brother Ronald Logan, Brother Steve Madden and Brother Ashley Kidd officiating. Burial will follow in the Flat Fork Cemetery in Olive Hill, Kentucky.

Friends may visit from 6 p.m. to 9 p.m. Saturday, January 27, 2018 and after 9 a.m. Sunday at Globe Funeral Chapel, 17277 West US Highway 60, Olive Hill, Kentucky 41164.

Jeremy Kiser, Alex Kiser, Brandon Wells, Sean Wells, Anthony Fultz and Lionel Logan will serve as pallbearers. Greg Kiser will serve as honorary pallbearer.