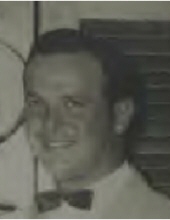 Obituary for John Delmar "Johnny" Wilson
Mr. John Delmar "Johnny" Wilson, age 92, of Knoxville, Tennessee, formerly of Ashland, Kentucky, is now in heaven and completely at peace. He passed away peacefully Tuesday afternoon, January 23, 2018, in Knoxville, Tennessee surrounded by his loving family and caretakers.

He was born March 15, 1925 in Carter County, Kentucky, a son of the late Avery and Jennie Ellis Wilson.

In addition to his parents, he was preceded in death by his loving wife of 60 years, Eleanor Beverly Leavens Wilson.

John was raised on a farm with four sisters and three brothers. Even though the first home John lived in was very modest, there was never a shortage of love and good home cooked meals. Some of John's fondest memories are of his mom cooking meals on a wood burning stove that filled the little house with hints of homemade pies and canned greens. To the day John passed away, he never turned down a good home cooked meal topped off with apple pie and ice cream.

Having grown up through the Great Depression, John knew at an early age he needed to learn how to survive on his own and started paving a path of "life lessons". At the age of sixteen, he dropped out of school and joined the CCC (Civilian Conservation Corporation), which was started by President Roosevelt . He was sent to Idaho, a significant distance from Kentucky, and learned to grow up quickly surrounded by both young and older men. After 14 months the CCC was closed and John registered for the military. After a short military experience, he moved to several states working in the oil fields , before becoming Chief of Police in his home town at the age of 25. Once again John felt there was more for him to experience and in 1951 moved to Southern California. He worked for Douglas Aircraft building planes before landing his "lifetime" job at Chevron Oil Refinery in El Segundo, California. At the age of 56 John retired never working another day, but instead enjoying life with family, friends and his church family.

John also met his wife of 60 years in Southern California. It was truly love at first sight and within three months John and Eleanor were married. They raised four children in Redondo Beach, California. With John and Eleanor having lived through the Great Depression, they wanted their kids to have experiences they never dreamed of. Many summers were planned that included camping in National Parks from coast to coast. After 40 years it is still great to reminisce about the family times shared while growing up.

John wanted his legacy to read, a great love of God and family. He was a devoted Christian for over six decades. He ministered door to door and to the homeless in some of the most crime ridden parts of Los Angeles. He knew this was the ministry God had asked of him and was not afraid. In addition, John and Eleanor worked as a team, having high regard for each other and a unbreakable bond of love in Christ Jesus. They were always busy in church activities and helping others. John was a devoted brother, husband, father and disciple of God. John loved to quote words from apostle Paul to Timothy: "I am now ready to be offered and the time of my departure is at hand. I have fought a good fight I have finished my course, I have kept the faith." Our father and friend will be greatly missed.

John is survived by two sons and daughters-in-law, John Mark and Jo'D Wilson of South Jordan, Utah and Wayne and Pam Wilson of Knoxville, Tennessee; two daughters and sons-in-law, Sherri and John Meloccaro of Tabor, Iowa and Jeanine and Rick Warren of Strawberry Plains, Tennessee; eight grandchildren; and ten great grandchildren. He also leaves many other family members and friends who will sadly miss him.

Funeral Services will be held at 1 p.m. Saturday, January 27, 2018 at Globe Funeral Chapel in Olive Hill, Kentucky with Brother David Rayburn officiating. Burial will follow in the Bowen Chapel Cemetery in Olive Hill, Kentucky.

Friends may visit from 11 a.m. to 1 p.m. Saturday, January 27, 2018 at Globe Funeral Chapel, 17277 West US Highway 60, Olive Hill, Kentucky 41164.

Family and friends will serve as pallbearers.

In lieu of flowers, donations may be made to the Globe Christian Church Building Fund, P.O. Box 445, Olive Hill, Kentucky 41164.