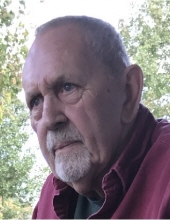 Obituary for Dewey Zane Wilson
Mr. Dewey Zane Wilson, age 81, of Olive Hill, Kentucky, passed away Tuesday morning, January 9, 2018, at his residence.

He was born April 2, 1936, in Carter County, Kentucky, a son of the late Woodrow and Hazel Crank Wilson.

Dewey proudly served his country in the National Guards and was of the Christian faith. He enjoyed guns, shooting, trading knives, he was an avid Ham Radio operator for many years with the call sign of KO4UV. Dewey also enjoyed going to the cabin on his farm and spending time with his family, especially with his son and best friend, Mike.

In addition to his parents, he was preceded in death by two brothers, Harlan Wilson and Kenneth Wilson.

Dewey is survived by his wife of 61 years, Audrey Jean Wilson; one son and daughter-in-law, Mike and Larae Wilson of Olive Hill, Kentucky; one brother and sister-in-law, Larry and Wendy Wilson of Olive Hill, Kentucky; one sister and brother-in-law, Mary Alice and Wayne Clark of Olive Hill, Kentucky; and his faithful canine companion, Dobie. He also leaves many other family members and friends who will sadly miss him.

A graveside service will be held at 1 p.m. Thursday, January 11, 2018, at Wilson Cemetery on US 60 in Grayson, Kentucky with Brother Marcus McCleese officiating.

Ronnie Greenhill, Grady Evans, Allan Wilson, Daymond Kiser, George Boggs, and Steven Whitt will serve as pallbearers.

Globe Funeral Chapel in Olive Hill, Kentucky, is caring for all arrangements for Mr. Dewey Zane Wilson.