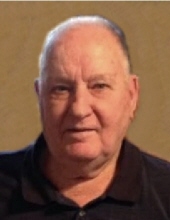 Obituary for Elbert Catron
Mr. Elbert Catron, age 83, of Olive Hill, Kentucky, passed away Thursday evening, January 4, 2018, at his residence.

He was born October 24, 1934, in Carter County, Kentucky, a son of the late Henry and Geneva Lambert Catron.

Elbert was of the Baptist faith and was a member of the Upper Tygart Freewill Baptist Church. He enjoyed woodworking, building, being outdoors, swinging on his swing, watching westerns, and spending time with his family.

In addition to his parents, he was preceded in death by two daughters, Nancy Bryant and Vicky Williams; one brother, Benny Catron; and one sister, Aileen Hampton.

Elbert is survived by his wife of 62 years, Lenora Oakley Catron; one son, Jeff Catron of Morehead, Kentucky; three daughters and three sons-in-law, Jennifer and Paul O'Daniel, Cathy Johnson, Don Williams, and David Bryant, all of Olive Hill, Kentucky, and Kristy Fannin of Cincinnati, Ohio; eight grandchildren; 11 great grandchildren; four brothers and three sisters-in-law, Talmadge Catron, Dennis and Evelyn Catron, Chester and Frances Catron, and Randall and Louise Catron, all of Morehead, Kentucky; and two sisters, Grace Curtis and Janice Hilderbrand, both of Morehead, Kentucky. He also leaves many other family members and friends who will sadly miss him.

Funeral services will be held at 3 p.m. Monday, January 8, 2018, at Globe Funeral Chapel in Olive Hill, Kentucky, with Brother Eugene Rayburn and Brother Bobby Day officiating. Burial will follow in the Manning Chapel Cemetery in Olive Hill, Kentucky.

Friends may visit from 5 p.m. to 8 p.m. Sunday, January 7, 2018, and after 1 p.m. Monday at Globe Funeral Chapel, 17277 West Highway US 60, Olive Hill, Kentucky 41164.

Mike Williams, Buck Catron, Derek Johnson, Wayne Bryant, Ethan Williams, Dawson Hall, and J.B. Carter will serve as pallbearers. Verlin Qualls, Danny Ray Carroll, Hobert Dean, Don Williams, Paul O'Daniel, Mark Johnson, Nathaniel Fannin and Austin Carter will serve as honorary pallbearers.