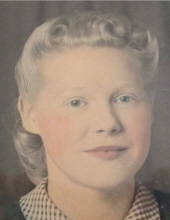 Obituary for Iris Iona Barker Criss
Mrs. Iris Iona Barker Criss, age 96, of Vanceburg, Kentucky, passed away Monday evening, December 25, 2017, at the Vanceburg & Rehabilitation Center Vanceburg, Kentucky.

She was born November 7, 1921, in Cannelton, West Virginia, a daughter of the late Monroe and Nancy Hamilton Barker.

Iris was a member of the Laurel Point Church and was a homemaker. She enjoyed doing embroidery, cooking, playing the piano, reading the bible, and spending time with her family and friends.

In addition to her parents, she was preceded in death by her husband of 72 years, Ira Lenny Criss; two brothers, George Barker and Welton Barker; and two sisters, Juanita Barker and Vesta Lumley.

Iris is survived by one son and daughter-in-law, James Monroe and Mary Criss of Harrisville, Pennsylvania; one daughter, Anita Criss of Vanceburg, Kentucky; four grandchildren; and seven great grandchildren. She also leaves many other family members and friends who will sadly miss her.

A private service will be held Friday at the Hamilton-Mawk Cemetery on Tar Fork Road in Lewis County, Kentucky.

In lieu of flowers, the family request that donations be made in Iris' memory to St. Judes Children's Research Hospital, 262 Danny Thomas Place, Memphis, Tennessee 38105.

Dickerson Funeral Home in Vanceburg, Kentucky, is caring for all arrangements for Mrs. Iris Iona Barker Criss.