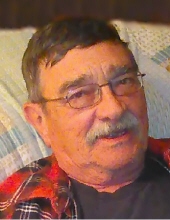 Obituary for Edward "Ed" McMahan
Mr. Edward A. "Ed" McMahan, age 73, of Emerson, Kentucky, went home to be with the Lord, Monday evening, December 18, 2017, at Cabell Huntington Hospital in Huntington, West Virginia, with his loving wife at his bedside.

He was born December 10, 1944, in Rush County, Indiana, a son of the late William McKinley and Leva Odelean Logan McMahan.

Ed proudly served his country in the United States Marine Corps during the Vietnam Conflict and was of the Church of God faith. He worked until his retirement as a welder and millwright for Harvester Navistar and Dana Corporation. Ed was a member of the Olive Hill American Legion Post #138 and the Olive Hill Masonic Lodge #629. He and his wife, together cared and rescued animals for many years. Ed enjoyed farming, birdwatching, gardening, fishing, spending time with his comrades in battle, and riding around on the farm with his loyal canine companion, Egan. He lived an exemplary life with impeccable dignity and integrity and lived to help others.

Ed is survived by his wife of 9 years, Sara Adkins McMahan; two sons, Bryan McMahan and Ethan McMahan, both Carthage, Indiana; one granddaughter, Charolette "Charlie" McMahan; and three brothers and sisters-in-law, Walter and Kay McMahan and William and Nancy McMahan, all of Arlington, Indiana, and Homer and Dianne McMahan of Sparta, Tennessee. He also leaves many other family members and friends who will sadly miss him.

Funeral services will be held at 11 a.m. Friday, December 22, 2017, at Globe Funeral Chapel in Olive Hill, Kentucky, with Brother Gary Sparks officiating. Burial will follow in the McMahan Cemetery in Emerson, Kentucky, with full military honors presented by the Olive Hill American Legion Post #138.

Friends may visit from 5 p.m. to 8 p.m. Thursday, December 21, 2017, and after 9 a.m. on Friday at Globe Funeral Chapel, 17277 West Highway US 60, Olive Hill, Kentucky 41164.

Bobby Thompson, Steve Carroll, Douglas Zornes, Allen Stapleton, Roger Parsons, and Tim Burton will serve as pallbearers. Mark Sparks, Avery Adkins Jr., Dan Stewart, Marion Steward, and David Brown will serve as an honorary pallbearers.