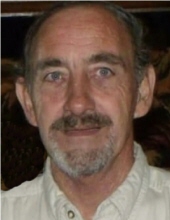 Obituary for Willard Winn
Mr. Willard Winn, age 61, of Olive Hill, Kentucky, passed away Sunday, October 14, 2018, at St. Claire Regional Medical Center in Morehead, Kentucky.

He was born January 30, 1957, in Portsmouth, Ohio, a son of the late Elmer and Girlie Alley Winn.

Willard enjoyed fishing, going to auctions and spending time with his grandchildren.

In addition to his parents, he was preceded in death by one son, David Winn; three grandchildren, Alexis McGlone, Robert Blake Garris, Gabriel Keaton; and two brothers, Emmer Winn and Elve Winn.

Willard is survived by his wife, Mary Holbrook; two daughters and sons-in-law, Polly and Joe McGlone and Missie and Bob King, all of Olive Hill, Kentucky; one stepson, Allen Holbrook of Olive Hill, Kentucky; two stepdaughters, Tabitha Garris and Joe of Olive Hill, Kentucky, Melissa and Randy Keaton of West Liberty, Kentucky; 12 grandchildren; four great grandchildren; six brothers, William and Dean Winn, Buddy and Mowdy Winn, Eddie Winn, Steve and Sheila Winn, Estle and Marry Winn, and Russell and Louann Winn, all of Milford, Ohio; three sisters, Norma and Donald Large, Glenna Reed, and Jennet and Duck Twinnell, all of Milford, Ohio; and one ex son-in-law, Duckie McGlone of Olive Hill, Kentucky. He also leaves many other family members and friends who will sadly miss him.

Funeral services will be held at 11 a.m. Wednesday, October 17, 2018, at Oney-Henderson Funeral Home in Olive Hill, Kentucky, with Brother Ronald Logan and Brother Ed Porter officiating. Burial will follow in the McGlone Family Cemetery in Olive Hill, Kentucky.

Friends may visit from 6 p.m. to 8 p.m. Tuesday, October 16, 2018, and after 9 a.m. on Wednesday at Oney-Henderson Funeral Home, 145 Gearhart Street, Olive Hill, Kentucky 41164.

Scottie Smith, Seth McGlone, Dalton McGlone, Mike Chapin, Kevin McGlone, Duckie McGlone, Allen Holbrook, Wompy Winn and K.P. Erwin will serve as pallbearers.