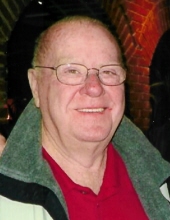 Obituary for Virgil Ray Garvin
Virgil Ray Garvin, age 80, of Middletown, Ohio, formerly of Olive Hill and Morehead, Kentucky, passed away Sunday, September 9, 2018 at his residence.

He was born February 5, 1938 in Carter County, Kentucky and graduated from Olive Hill High School Class of 1957. He served in the National Guard at Olive Hill, Kentucky. Virgil was employed as a truck driver for Local 836 Teamsters Union until 1988. He then owned and operated with his wife Jean, Garvin's Country Village Motel and Bait Shop at Cave Run Lake. He was a school bus driver for five years for Rowan County Schools. He was a member of the First Free Will Baptist Church of Morehead, Kentucky. Virgil loved spending time with his family and friends and his special dog, Rudy and enjoyed fishing.

Preceding him in death were his parents, Glenn and Opal (Price) Garvin; infant twins, Ricky and Rita in 1962; one brother, Sam Garvin; and two sisters, Sue Elliott and Glenna Walker.

He is survived by his wife of 58 years, Shelvia Jean (nee Williams) Garvin; three children, Joyce (Phil) Brandenburg, Tim (Kim) Garvin and Mona (Paul) Maloney; four grandchildren, Ryan Brandenburg, Zach Maloney, Luke (Amanda) Garvin, and Lindsey (Josh) Blair; three great grandchildren Lilah Jean Brandenburg, Lilly Grayce Garvin and Colton Case Garvin; special sister-in-law, Jewell Garvin; special brother-in-law, Don Williams; several special nieces, nephews, extended family and friends.

Visitation will be Wednesday, September 12, 2018 from 5:00 p.m. to 8:00 p.m. at the Herr-Riggs Funeral Home, 210 S. Main St., Middletown. There will also be a visitation on Friday, September 14, 2018 from 3:00 p.m. to 5:00 p.m. at the Globe Funeral Chapel, 17277 West Highway U.S. 60, Olive Hill, Kentucky 41164, followed by a funeral service at 5:00 p.m. with Pastor Zach Maloney and Pastor Brad Bennington officiating. Interment will be at Garvin Ridge Cemetery, Olive Hill, Kentucky.

Memorial contributions may be made to the First Free Will Baptist Church, P.O. Box 1003, 500 Bluestone Road, Morehead, Kentucky 40351.