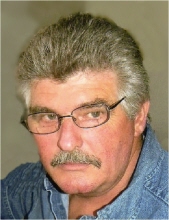 Obituary for Tracy Wayne King
Mr. Tracy Wayne King, age 60, of Olive Hill, Kentucky, passed away Sunday afternoon, November 11, 2018, at St. Claire Regional Medical Center in Morehead, Kentucky.

He was born July 19, 1958, in Carter County, Kentucky, a son of the late Wylie Edmond and Julia Cooper King.

Tracy was of the Christian faith and he enjoyed carving walking sticks, gardening, genealogy, being outdoors and sitting on the porch.

In addition to his parents, he was preceded in death by one sister, Nadine Hedge.

Tracy is survived by his wife of 32 years, Lottie Fultz King; three daughters, Amy Manning Oney (Chad Carroll) of Olive Hill, Kentucky, Leslie Manning Stevens (Allen) of Morehead, Kentucky, Theresa Manning Lucas of Ashland, Kentucky; six grandchildren, Traci Vanderpool (Zach), Kelsey Licon (Thomas), Levi Oney, Makenzie Lucas, Blake Stevens, and Emma Grace Carroll; three great grandchildren, Ryleigh Licon, Hadleigh Licon, and Bayleigh Licon; four brothers, Larry King (Barb), James J.D. King (Robin), Bill King (Regina) and Karl King (Traci), all of Olive Hill, Kentucky; and three sisters, Sue Phillips of Amhurst, Ohio, Louise Callihan and Kathy Bailey (Sam), all of Olive Hill, Kentucky. He also leaves many other family members and friends who will sadly miss him.

Funeral services will be held at 11 a.m. Wednesday, November 14, 2018 at Globe Funeral Chapel in Olive Hill, Kentucky with Brother Rex Sagraves officiating. Burial will follow in the King Cemetery in Olive Hill, Kentucky.

Friends may visit from 5 p.m. to 9 p.m. Tuesday, November 13, 2018, and after 9 a.m. on Wednesday at Globe Funeral Chapel, 17277 West US Highway 60, Olive Hill, Kentucky 41164.

Thomas Licon, Allen Stevens, Blake Stevens, Chad Carroll, Levi Oney, and Zach Vanderpool will serve as pallbearers. Larry Hall, Charlie Mauk and Tracy's brothers and nephews will serve as honorary pallbearers.