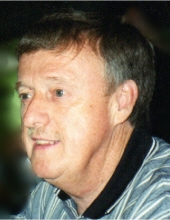 Obituary for Rod Kegley
Mr. Rod Kegley, age 78, of Mableton Georgia, passed away Thursday, May 30, 2019, at WellStar Cobb Hospital in Austell, Georgia.

He was born January 26, 1941, in Verner, West Virginia, a son of the late Kenneth and Columbia Kegley. Rod worked and retired from Norfolk Southern Railroad, after 35 years of service. He was a devoted husband, father, grandfather, and brother. Rod enjoyed traveling with his family, researching his ancestry, and feeding the deer and birds on his property.

In addition to his parents, he is proceeded in death by four brothers, Clarence Johnson, Bill Kegley, Harry McClure and K.C. Kegley; one sister, Betty Browning; nine brothers-in-law, Segal Browning, Gomez Leadingham, James Leadingham, Lloyd Leadingham, Gene Evans, Tommy Craycraft, Kenny Stevens, Jim Lemon and Bill Mosier; and eight sisters-in-law, Hattie Johnson, Bereleda Stevens, Glenna Evans, Donna Owens, Shelia Kiser, Sharon Frazier, Barbara Leadingham, and Marcella Leadingham.

Rod is survived by his wife of 56 years, Alice Leadingham Kegley; one daughter, Terri (Chris) Ernst; one son, John (Shelley) Kegley; two grandsons, Stephen (Miriah) Kegley and Garret Kegley; two sisters, Phyllis Hardy and Sue Corry; one brother, Danny (Pam) Kegley; six sisters-in-law, Shirley McClure, Helen Kegley, Connie Lemon, Rita (Clifford) Roe, Gail Leadingham and Vicki Mosier; three brothers-in-law, George Kiser, Don Owens and Don Frazier; and numerous nieces, nephews, great nieces and nephews, and one especially close nephew, George Corry. Rod leaves many other family and friends who will sadly miss him.

A Celebration of Life service will be held at 11 a.m. Wednesday, June 5, 2019 at Globe Funeral Chapel in Olive Hill, Kentucky with family officiating. Burial will follow in the Kegley Family Cemetery in Elliott County, Kentucky.

Friends may visit from 6 p.m. to 9 p.m. Tuesday, June 4, 2019 at Globe Funeral Chapel, 17277 West US Highway 60, Olive Hill, Kentucky 41164.