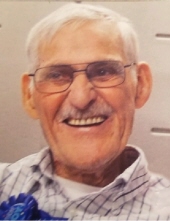 Obituary for Robert "Bruce" Thoroughman
Mr. Robert "Bruce" Thoroughman, age 84, of Vanceburg, Kentucky, passed away Sunday morning, November 11, 2018, at Kenton Pointe Hospice Care Center in Maysville, Kentucky, after a brief illness with cancer.

He was born October 12, 1934, in Lewis County, Kentucky, a son of the late Benjamin Arthur and Rosie Belle Fetters Thoroughman.

Bruce attended Liberty Grove Church in Tollesboro. He worked at several occupations throughout his lifetime, but his last occupation was for Russell Hord at Lewis County Monument in Vanceburg. He enjoyed going to church, walking, working puzzles and setting on the porch.

In addition to his parents, he was preceded in death by one son, Robert Mark Thoroughman; eight brothers, Leonard Thoroughman, Glenn Thoroughman, Roy Thoroughman, Harlan Thoroughman, Bill Thoroughman, Cecil Thoroughman, Leon Thoroughman and George Thoroughman; and three sisters, Jewell Mae Gilliam, Ruth Ann Thoroughman and Garneda Mae Ginn.

Bruce is survived by his wife of 18 years, Louise Moore Thoroughman, her two sons, David Phelps (Lora) of Wallingford, Kentucky, and their children and grandchildren, Ron Phelps (Penny) of Flemingsburg, Kentucky, and their children; his son, Marvin Douglas Thoroughman (Sara) of Seminole, Florida; four grandchildren, Dalton Thoroughman and Ariana Thoroughman, both of Tampa, Florida, Colin Thoroughman and Gracie Thoroughman, both of Seminole, Florida; three brothers, Delbert Thoroughman (Geogetta) of Vanceburg, Kentucky, Eddie Thoroughman (Lurie Mae) of Charters, Kentucky and Donald Thoroughman (Donnie) of Bucyrus, Ohio; and two sisters, Nannie Hobbs of Quincy, Kentucky and Thelma Louise Bloomfield of Garrison, Kentucky. He also leaves many other family members and friends who will sadly miss him.

Funeral services will be held at 11 a.m. Saturday, November 17, 2018 at Dickerson Funeral Home in Vanceburg, Kentucky with Brother Arlin Butler, Brother Sam Jones, Brother Jerry Blevins, and Brother J.R. Hedges officiating. Burial will follow in the Burtonville Cemetery in Lewis County, Kentucky.

Friends may visit from 6 p.m. to 8 p.m. Friday, November 16, 2018 and after 9 a.m. Saturday at Dickerson Funeral Home, 110 West Second Street, Vanceburg, Kentucky 41179.

Tony Moore, Darwin Thoroughman, Mario Phelps, Wilmer Zehr, Angus Phelps, and Russell Phelps will serve as pallbearers. Jim Bob Williams, Kent Moore, Delbert Thoroughman, Donald Thoroughman, and Eddie Thoroughman will serve as honorary pallbearers.