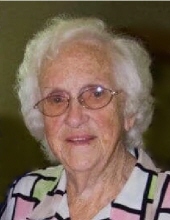 Obituary for Rebecca Myrtle Hutchinson Hardeman
Mrs. Rebecca Myrtle Hutchinson Hardeman, age 101, of Laurel Road in Vanceburg, Kentucky passed away Saturday morning, December 15, 2018 at the residence of her son.

She was born April 17, 1917, in Lawrence County, Kentucky, a daughter of the late Martin and Lillie Lovejoy Hutchinson.

Myrtle attended Bald Point Church and Mountain Top Church and she enjoyed sewing, quilting, reading, traveling, family get togethers and spending time with her family.

In addition to her parents, she was preceded in death by her husband of 61 years, Charles Hardeman; three sons, Glendel Hardeman, Robert "Bob" Hardeman and Billy Joe Hardeman; one daughter, Betty Rucker; one grandson, Tony Hardeman; 10 brothers, Johnny Hutchinson, Thurman Hutchinson, Garland Hutchinson, Anderson Hutchinson, Richard Hutchinson, Ray Hutchinson, Lafe Moore, Carl Moore, Ernest Hutchinson and Claude Hutchinson; and three sisters, Maggie Mosley, Nellie Chaffins and Dova Bunting.

Myrtle is survived by six sons, Delbert Hardeman (Doris) of Vanceburg, Kentucky, Charles Hardeman (Patti) of Macon, Illinois, Roger Hardeman (Carolyn) of Vanceburg, Kentucky, Larry Hardeman (Trisha) of Carthage, Indiana, Jackie Hardeman (Kay) of Maysville, Kentucky and Keith Hardeman (Tammy) of Farmers, Kentucky; three daughters, Bonnie Nolen of Xenia, Ohio, Sheila Terry (Stan) of Ashland, Kentucky and Dawn Hardeman of Maysville, Kentucky; 27 grandchildren; 44 great grandchildren; 12 great-great grandchildren; two daughters-in-law, Lois Hardeman of Bardstown, Kentucky and Wanda Hardeman of Vanceburg, Kentucky; and a special niece, Eliza "Billie" Clark of Florida. She also leaves many other family members and friends who will sadly miss her.

Funeral services will be held at 11 a.m. Tuesday, December 18, 2018 at Globe Family Funeral Chapel in Camp Dix, Kentucky with Brother Ronnie Enix and Brother John Jordan officiating. Burial will follow in the Jordan Cemetery in Lewis County, Kentucky.

Friends may visit from 6 p.m. to 8 p.m. Monday, December 17, 2018 and after 9 a.m. Tuesday, at Globe Family Funeral Chapel, 7975 Lower Kinney Road, Camp Dix, Kentucky.

Myrtle's grandsons will serve as pallbearers.