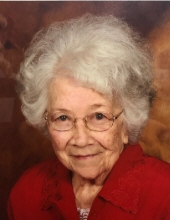 Obituary for Nora Ellen Tackett Barker
Mrs. Nora Ellen Tackett Barker, age 90, of Olive Hill, Kentucky, passed away Thursday, December 20, 2018, at her residence.

She was born June 22, 1928, in Carter County, Kentucky, a daughter of the late Clyde and Etta Parsons Tackett.

Nora was of the United Baptist Faith and she enjoyed quilting, crocheting, gardening, riding on the boat with her husband and spending time with her family and friends.

In addition to her parents, she was preceded in death by her husband of 60 years, Glen Dale Barker, and four sisters, Infant Ruby Delores Tackett, Infant Wanita Tackett, Eva Tackett Sparks, and Emma Tackett Gilbert.

Nora is survived by two sons and daughters-in-law, Barry Barker and Gaye and Bobby Barker and Salichia, all of Olive Hill, Kentucky; six grandchildren; nine great grandchildren; and one great-great grandchild. She also leaves many other family members and friends who will sadly miss her.

A graveside service will be held at 3 p.m. Saturday, December 22, 2018, at Pleasant Hill Cemetery in Olive Hill, Kentucky, with Brother Gary Jones and Brother Michael Riggs officiating.

Barry Willis Barker, Corey Allen Barker, Richard Chy Barker, Jerry Wayne Sparks, Kevin O'Neal Sparks and Billy Arnold Gilbert will serve as pallbearers.

Globe Funeral Chapel in Olive Hill, Kentucky, is caring for all arrangements for Mrs. Nora Ellen Tackett Barker.