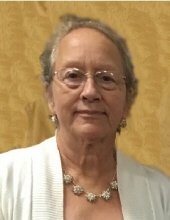 Obituary for Naomi "Jean" Stevens Griffitt
Mrs. Naomi "Jean" Stevens Griffitt, age 69, of Tollesboro, Kentucky, passed away Tuesday evening, May 7, 2019, at the University of Kentucky Medical Center in Lexington, Kentucky.

She was born February 16, 1950, in Carter County, Kentucky, a daughter of the late Arthur and Roberta Brickles Stevens.

Jean was a member of the Pine Valley Christian Church and worked at U.S. Shoe for 28 years, Road Ranger for eight years, and Licking Valley for 2 years. She enjoyed going to church, shopping and spending time with her family, especially with her grandchildren.

In addition to her parents, she was preceded in death by her husband of 37 years, Jesse Lewis Griffitt.

Jean is survived by one son, Jesse Wade Griffitt (Emma) of Tollesboro, Kentucky; two daughters, Dreama Lou Johnson (Delbert) of Tollesboro, Kentucky, and Julie Ann Dyer (Terry) of Wallingford, Kentucky; five grandchildren; one great grandchild; one brother, Joseph Stevens of Tollesboro, Kentucky; four sisters, Judy Kilgore of Vanceburg, Kentucky, Connie Miller of Flemingsburg, Kentucky, Diana Gilliam (Donnie) of Olive Hill, Kentucky, and Tammy Ashworth (Bill) of Gallipolis, Ohio; and one special aunt, Betty Smith of Owingsville, Kentucky. She also leaves many other family members and friends who will sadly miss her.

Funeral services will be held at 11 a.m. Friday, May 10, 2019, at Tollesboro Funeral Home and Cremation Services in Tollesboro, Kentucky, with Brother Phil Cropper officiating. Burial will follow in the Griffitt Cemetery in Lewis County, Kentucky.

Friends may visit from 6 p.m. to 8 p.m. Thursday, May 9, 2019, and after 9 a.m. on Friday at Tollesboro Funeral Home & Cremation Services, 11918 KY 57, Tollesboro, Kentucky 41189.

Brad Griffitt, Ethan Johnson, Randy Gilliam, Donnie Gilliam, David Whisman and Phil Bloomfield will serve as pallbearers.