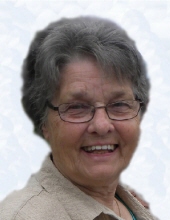 Obituary for Margie Green Jamison
Mrs. Margie Green Jamison, age 83, of Garrison, Kentucky, passed away Thursday evening, August 29, 2019, at her residence.

She was born on July 10, 1936, in Greenup County, Kentucky, a daughter of the late Homer and Dorothy Horsley Green.

Margie was a member of the Quincy Church of Christ and worked until her retirement as a cook. She enjoyed going to church and the senior citizens meetings, loafing, eating out, taking care of her cats and spending time with her family, especially with her grandchildren.

In addition to her parents, she was preceded in death by her husband of 49 years, Tifton Tip Jamison; one grandson, Jared McCane; two brothers, Homer Green and Dennis Green; and one sister, Evelyn Green.

Margie is survived by two daughters and one son-in-law, Renee McCane of Vanceburg, Kentucky, and Georgeann and William Leslie Kamer of Tollesboro, Kentucky; four grandchildren, Devin McCane (Christina), Ethan Kamer (Amber), Parker Kamer, and Katelyn Kamer (Gage Yates); two brothers, Howard Green of Columbus, Ohio, and Ron Green (Rose) of Greenup, Kentucky; and one sister, Shirley Bowling (Curt) of Troy, Ohio. She also leaves many other family members, church family and friends who will sadly miss her.

Funeral services will be held at 3 p.m. Sunday, September 1, 2019, at Quincy Church of Christ in Quincy, Kentucky, with Brother William Kamer, Brother Calvin Green and Brother Danny Bentley officiating. Burial will follow in the Jamison Cemetery in Lewis County, Kentucky.

Friends may visit from 1 p.m. to 3 p.m. Sunday, September 1, 2019, at Quincy Church of Christ in Quincy, Kentucky.

Devin McCane, Ethan Kamer, Parker Kamer, Calvin Green, Donald Stamper, and Gage Yates will serve as pallbearers.

Globe Family Funeral Chapel in Garrison, Kentucky, is caring for all arrangements for Mrs. Margie Green Jamison.