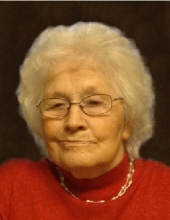 Obituary for Louise McGlone Danner
Mrs. Louise McGlone Danner, the youngest child of Sam Fred and Molissa Kiser McGlone, left her earthly home on August 24, 2019.

Louise, age 91 was born on the family farm at Rooney, Kentucky, on June 14, 1928. As a child, she walked to the one room school which remains on McGlone Creek and later attended Erie High School in Olive Hill. She learned responsibility early and put it to practice helping her parents maintain the farm when her three brothers who hadn't left home went to war. Times were hard for the young girl.

Other than working a short time as a store clerk in Ohio and at the sewing factory in Olive Hill, Louise was a stay-at-home mom who worked inside and outside on the farm. Whatever work was being done, she was part of it. She helped plant and harvest crops with her husband, Leroy. Friends and neighbors who helped with harvest sometimes commented the hard work was worth it just to get a meal prepared by Louise. She was a very good cook who also enjoyed sewing and quilting. She enjoyed her vegetable garden and her lawn was her playground. She loved pretty flowers.

Louise enjoyed coaching the Kentucky Wildcats as she watched them on T.V. with Leroy to whom she was married 70 years prior to his death September, 11, 2017. They did everything together and in the community their names were spoken together as if it was one word - LeroyandLouise.

In addition to her parents and Leroy, she was preceded in death by six brothers, Russell McGlone, Herman McGlone, Willie McGlone, Howard McGlone, Luther McGlone and Dewey McGlone; three sisters, Ruby McGlone, Lena Davis and Dorothy Cottongin; and her and Leroy's best friend, Millie.

To treasure her memory, Louise is survived by her daughter, Barbara Roe of Olive Hill, Kentucky; one granddaughter, Stacy Stevens of Grayson, Kentucky; and one sister-in-law, Janice McGlone. Louise loved her family and adored each of the many nieces and nephews she leaves behind. Her good friends and neighbors will miss her welcoming smile and her delicious dishes.

Funeral services will be held at 11 a.m. Thursday, August 29, 2019, at Globe Funeral Chapel in Olive Hill, Kentucky, with Brother Gary Sparks officiating. Burial will follow in the Bethel Cemetery on Route 2 in Olive Hill, Kentucky.

Friends may visit from 5 p.m. to 9 p.m. Wednesday, August 28, 2019, and after 9 a.m. Thursday at Globe Funeral Chapel, 17277 West US Highway 60, Olive Hill, Kentucky 41164.

Family and friends will serve as pallbearers.