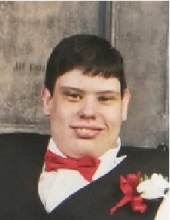 Obituary for Kyle Douglas Gerike
Kyle Douglas Gerike, age 22, of Tollesboro, Kentucky, passed away Friday evening, December 28, 2018, at Hospice of Hope Kenton Pointe in Maysville, Kentucky.

He was born May 29, 1996, in Fayette County, Kentucky, a son of Kelvin and Melissa Carol Toller Gerike.

Kyle was a Christian and he enjoyed watching Jimmy Swaggart, playing video games, listening to music and spending time with his family and friends.

He was preceded in death by his paternal grandmother, Ruth Grayson Gerike.

In addition to his parents, Kyle is survived by his paternal grandfather, Douglas Gerike and his maternal grandparents, Lee and Carol Dunigan Toller. He also leaves many other family members and friends who will sadly miss him.

Funeral services will be held at 11 a.m. Tuesday, January 1, 2019 at Happy Hollow Church in Lewis County with Brother Mike Grayson officiating. Burial will follow in the Happy Hollow Cemetery in Lewis County, Kentucky.

Friends may visit from 6 p.m. to 8 p.m. Monday, December 31, 2018 at Tollesboro Funeral Home & Cremation Services and after 10 a.m. Thursday at the Happy Hollow Church.

Kenneth Gerike Sr., Kenneth Gerike Jr., Michael Gerike, Levi Gerike, Blake Gerike and Tyler Toller will serve as pallbearers. Samantha Gerike will serve as honorary pallbearer.