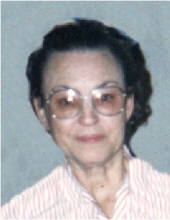 Obituary for Justine Douglas Keaton
Mrs. Justine Douglas Keaton, age 91, of Olive Hill, Kentucky, passed away Friday morning, July 26, 2019, at St. Claire Healthcare in Morehead, Kentucky.

She was born October 7, 1927, in Carter County, Kentucky, a daughter of the late Odis and Mary Wilson Douglas.

Justine was of the Church of God faith and she enjoyed playing her guitar, listening to music and feeding her wildlife.

In addition to her parents, she was preceded in death by her husband of 34 years, Homer Keaton; one daughter, Juanita Keaton; two grandchildren, Darrell Roberts and Keith Roberts; two brothers, Norton Douglas and Richard Douglas; and one son-in-law, John Kennedy.

Justine is survived by three daughters, Donita Darling (Terry) of New Castle, Indiana, Beverly Kennedy of Coral Springs, Florida and Patsy Poe (Rick) of Mooreland, Indiana; 10 grandchildren,, Allan, Brad, Michelle, Heather, Tracy, Danny, Brian, Marie, Jay and Eric; 14 great grandchildren, Dustin, Lyznee, Danielle, Logan, John Allan, Madison, Airadessa, Austin, Dezirae, Jacob, Caleb, Kelsey, Sara and Evan; three great-great grandchildren, Aleana, Micheal and Brooklyn; one sister, Barbara Burchett of Valdaia, Ohio; one sister-in-law, Roberta Douglas of Muncie, Indiana; one aunt, Virginia Saylers of Soldier, Kentucky; and a special caregiver, Brenda Porter of Olive Hill, Kentucky. She also leaves many nieces, nephews, cousins and other family members and friends who will sadly miss her.

Funeral services will be held at 2 p.m. Wednesday, July 31, 2019, at Globe Funeral Chapel in Olive Hill, Kentucky, with Brother Gayle Price officiating. Burial will follow in the Bradley Cemetery in Olive Hill, Kentucky.

Friends may visit from 6 p.m. to 8 p.m. Tuesday, July 30, 2019, and after 9 a.m. on Wednesday at Globe Funeral Chapel, 17277 West Highway US 60, Olive Hill, Kentucky 41164.

Brad Roberts, Allan Harding, Rick Poe, Terry Darling, Dustin Harding, Toby Back, Joey Burke and Tracy Kennedy will serve as pallbearers.