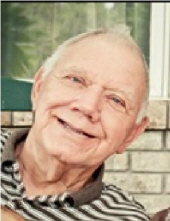 Obituary for Johnnie Porter
Mr Johnnie Porter, age 88, of Olive Hill, Kentucky, passed away Tuesday morning, September 18, 2018, at his residence.

He was born May 25, 1930, in Carter County, Kentucky, a son of the late Boone and Bessie Bradley Porter.

Johnnie was a member of the Haldeman Church of God and proudly served his country in the United States Army. He enjoyed taking care of his family, loafing with his friends and spending time with his children, grandchildren and great grandchildren.

In addition to his parents, he was preceded in death by one daughter, Teresa Porter and two brothers, Darvin Porter and Chester Porter.

Johnnie is survived by his wife, of 65 years, Mary Lou Perry Porter; three sons, Jay Porter (Beth) of Olive Hill, Kentucky, John Porter (Andra Garrett) of Marion, Indiana and Walker Porter (Sherry) of Olive Hill, Kentucky; one daughter, Luana Barker (Jeff) of Olive Hill, Kentucky; 10 grandchildren; nine great grandchildren; and three brothers, Lowell Porter of Marion, Indiana, Paul Porter of Olive Hill, Kentucky and Ora Allen Porter of Carmel, Indiana. He also leaves many other family members and friends who will sadly miss him.

Funeral services will be held at 11 a.m. Friday, September 21, 2018 at Globe Funeral Chapel in Olive Hill, Kentucky with Brother Clyde Holbrook and Brother Rex Seagraves officiating. Burial will follow in the Bradley Cemetery on Dry Branch in Carter County, Kentucky.

Friends may visit from 6 p.m. to 8 p.m. Thursday, September 20, 2018 and after 9 a.m. Friday at Globe Funeral Chapel, 17277 West US Highway 60, Olive Hill, Kentucky 41164.

Jay Porter, Matthew Porter, John Porter, Johnathan Porter, James Porter, Walker Porter, Gunner Porter and Dustin Barker will serve as pallbearers.