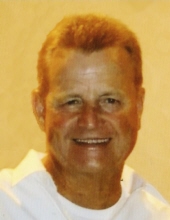 Obituary for Jimmie Ralph "J.R." James
Mr. Jimmie Ralph "J.R." James, age 64, of Big Sinking Road, Olive Hill, Kentucky, passed away Sunday, December 9, 2018, at his sister's home in Morehead, Kentucky, after his recent lymphoma diagnosis.

He was born September 2, 1954, in Grahn, Kentucky, a son of the late James Ralph "Junior" and Wilma Rice James.

J.R. graduated from high school in Olive Hill, Kentucky, in 1972. Early in his life, he started working for Judy Construction building bridges. He quickly advanced to construction supervisor and was lovingly referred to as "Doc" by his crew. The last few years he worked for Bush and Burchett Construction. His work often took him out of town but his heart always remained at his home.

He leaves behind many friends and family members who will miss his smile, friendliness, and sense of humor. J.R. always had a fish or deer story to share. He was an avid hunter and the love of fishing was passed down from his father and uncles. J.R. loved the outdoors, riding his four wheeler and the loving times spent with his family.

In addition to his parents, he was preceded in death by one sister, Jama James Carter.

J.R. is survived by his wife of 38 years, Deborah Lowe James; two sons and one daughter-in-law, Matthew James and Jay Brian James and Rebecca, both of Olive Hill, Kentucky; one daughter and son-in-law, Kasey James Wolfe and Justin of Grayson, Kentucky; two grandsons, Maddox James and Kash Wolfe; one brother and sister-in-law, Micheal and Margaret James of Olive Hill, Kentucky; five sisters and four brothers-in-law, Janis Blevins and Danny of Green Cove Springs, Florida, Stella Williams, Doreen Martin and Jim and Lori Smith and Jeff, all of Olive Hill, Kentucky, and Sheri White and Kenny of Morehead, Kentucky; and his childhood friend, Mick Nolen, who has remained by his side at his darkest hour. He also leaves many other family members and friends who will sadly miss him.

Funeral services will be held at 1 p.m. Wednesday, December 12, 2018, at Globe Funeral Chapel in Olive Hill, Kentucky, with Brother Tommy Barker and Brother Jason Johnson officiating. Burial will follow in the James Cemetery in Olive Hill, Kentucky.

Friends may visit from 11 a.m. to 1 p.m. Wednesday, December 12, 2018, at Globe Funeral Chapel, 17277 West US Highway 60, Olive Hill, Kentucky 41164.

Carl David James, Mickey Nolen, Timmy Wilburn, Phillip Carter, Herbie Jones, Gary Baker, Brent Wilburn and Brent Green will serve as pallbearers. Lonnie Sturgill will serve as a honorary pallbearer.