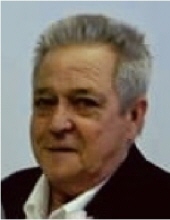 Obituary for James Edward Lykins
Mr. James Edward Lykins, age 75, of Tollesboro, Kentucky, passed away Saturday morning, October 26, 2019, at the Hospice of Hope Care Center in Maysville, Kentucky.

He was born June 19, 1944, in Lewis County, Kentucky, a son of the late Louie and Rosetta Francis Cassidy Lykins.

James proudly served our country in the United States Army and was a member of the Bethel Community Church.

In addition to his parents, he was preceded in death by two wives, Jackie Sartin Lykins and Sandra Hobbs Lykins; one step-son, Anthony Stevenson; two grandchildren, Austin Stevenson and Dillon Stevenson; and two brothers, Jessee Lykins and Johnny Lykins.

James is survived by his wife of 15 years, Brenda Carol Morgan Lykins; three sons, James Edward Lykins Jr. of Fort Dix, New Jersey, step-son, Zachary Wayne Stevenson of Maysville, Kentucky and step-son, Aaron Grayson of Vanceburg, Kentucky; one daughter, Carol Sue Lykins Stevenson of Maysville, Kentucky; 11 grandchildren; three great grandchildren; one great-great grandchild; three brothers, Jack Lykins (Anna) and Jeff Lykins (Angie) all of Vanceburg, Kentucky and Louie Lykins (Teresa) of Florida; and one sister, Judy Kay Menix (Jack) of Grayson, Kentucky. He also leaves many other family members and friends who will sadly mourn his passing.

A memorial service will be held at 7 p.m. Tuesday, October 29, 2019, with full military honors by Monte Lewis Stamm Post # 5438, at Dickerson Funeral Home in Vanceburg, Kentucky, with Brother Kevin Applegate officiating.

Friends may visit from 6 p.m. to 7 p.m. Tuesday, October 29, 2019 at Dickerson Funeral Home, 110 West Second Street, Vanceburg, Kentucky 41179.