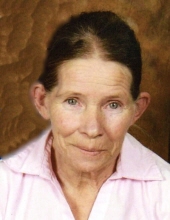 Obituary for Frieda Skaggs Pelfrey
Mrs. Frieda Skaggs Pelfrey, age 65, of Soldier, Kentucky, went to be with the Lord, Saturday morning, June 29, 2019 at St. Claire Health Care Center in Morehead, Kentucky.

She was born January 9, 1954, in Columbus, Ohio, a daughter of the late Earl and Maxine Keaton Skaggs.

Frieda attended the Olive Hill Wesleyan Church and worked for the sewing factroy for 40 years. She enjoyed crafting, sewing, baking and taking care of her family.

In addition to her parents, she was preceded in death by one daughter, Nancy Ann Pelfrey; four brothers, Bill Skaggs, Jerry Skaggs, Daniel Skaggs and Robert Skaggs; and one sister, Rosemary Skaggs.

Frieda is survived by her husband of 45 years, Russell Pelfrey; two sons, Earl Russell Pelfrey (Nietta) of Grayson, Kentucky, Steven Ponder Pelfrey (Denise) of Soldier, Kentucky; two daughters, Anna Duncan (Jason) of Grahn, Kentucky, Missie Pelfrey of Soldier, Kentucky; three grandchildren, Daniel Stewart, Corey Carver and Jacob Duncan; one great granddaughter, Kyla Stewart; three brothers, Earl Skaggs of Grayson, Kentucky, Tim Skaggs of Olive Hill, Kentucky, and Dave Skaggs of Greenup, Kentucky; and six sisters, Vicie Bledsoe of Grayson, Kentucky, Dora Issacs of Georgetown, Indiana, Diane Cole of Olive Hill, Kentucky, Dorothy Hudson of Muncie, Indiana, Esta Pistol of Portsmouth, Ohio, and Joyce Blevins of Morehead, Kentucky. She also leaves many other family members and friends who will sadly miss her.

Funeral services will be held at 11 a.m. Wednesday, July 3, 2019 at Globe Funeral Chapel in Olive Hill, Kentucky, with Brother Allen Wells officiating. Burial will follow in the Pelfrey Family Cemetery in Carter County, Kentucky.

Friends may visit from 6 p.m. to 9 p.m. Tuesday, July 2, 2019 and after 9 a.m. Wednesday, at Globe Funeral Chapel, 17277 West US Highway 60, Olive Hill, Kentucky 41164.

Earl Pelfrey, Steven Pelfrey, Corey Carver, Daniel Stewart, Earl Skaggs and Jason Duncan will serve as pallbearers.