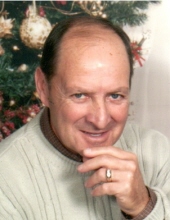 Obituary for Everett "Junie" Carroll
Mr. Everett "Junie" Carroll, age 75, of Olive Hill, Kentucky, went home to be with the Lord, Tuesday, August 6, 2019, at his residence.

He was born on August 1, 1944, in Carter County, Kentucky, a son of the late Kenneth Carroll and Althea "Peachie" Wilburn Huston.

Junie became a Christian and gave his heart to the Lord on Father's Day in 1974, and become a member of the Pleasant Valley Church, where he served as a Deacon, Sunday School Superintendent and the Youth Group Leader. In 1994, the Lord opened another door for Junie, and he made the decision to move his membership to the Oakland Christian Holiness Church, where he currently served as a Deacon. Junie retired from Kentucky Electric Steel after 46 years of service. He was a member of the Gideon's International and he enjoyed spending time with his family and friends, especially with his grandchildren and great grandchildren.

In addition to his parents, he was preceded in death by one grandson, Nick Nolen and one brother, Ronald Carroll.

Junie is survived by his wife of 55 years, Shelia Cecil Carroll; one son, Steve Carroll (Mary) of Olive Hill, Kentucky; one daughter, Kim Carroll Edison (Tae) of Olive Hill, Kentucky; four grandchildren, Stephen Carroll (Olivia), Nicole Nolen, Danielle Gilliam (Tommy), and Paige Lunsford (Tyler), all of Olive Hill, Kentucky; seven great grandchildren, Adalyn Carroll, Landon McDavid, Kayleigh McDavid, Madison Gilliam, Kaycee Gilliam, Tyanna Lunsford, and Remi Lunsford, all of Olive Hill, Kentucky; two brothers, Stephen "Pat" Carroll (Shirley) of Ashland, Kentucky, and Donnie Carroll of Grahn, Kentucky; and two sisters, Frances Reddicks (Chris) of Daytona, Florida, and Vickie McKinney (Richard) of Ashland, Kentucky; his mother-in-law, Billie Jean McCoy Holland of Olive Hill, Kentucky; and his special dog, Hollie. He also leaves many other family members and friends who will sadly miss him.

Funeral services will be held at 2 p.m. Saturday, August 10, 2019, at Globe Funeral Chapel in Olive Hill, Kentucky, with Brother Raymond Stegall and Brother Clyde Holbrook officiating. Burial will follow in the McFerren Cemetery in Olive Hill, Kentucky.

Friends may visit from 5 p.m. to 9 p.m. Friday, August 9, 2019, and after 9 a.m. on Saturday at Globe Funeral Chapel, 17277 West Highway US 60, Olive Hill, Kentucky 41164.

Steve Carroll, Stephen Carroll, Tae Edison, Kim Edison, Tommy Gilliam, Tyler Lunsford, and K Steel Kurt York will serve as pallbearers. Ray McCoy, Wayne Rawlins, Edd Parker, Pat Carroll, Donnie Carroll, and Randy Hamilton will serve as honorary pallbearers.