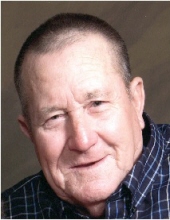 Obituary for Emory Williams
Mr. Emory Williams, age 83, of Steward Branch, Grayson, Kentucky, passed away Friday morning, July 26, 2019, at his residence.

He was born November 4, 1935, in Boyd County, Kentucky, a son of the late Will and Thelma Jane Griffith Williams.

Emory was a Christian and he proudly served our country in the United States Air Force.
He enjoyed fishing, riding golf carts, spending time with his dog, Mia and especially spending time with his grandchildren and great grandchildren.

In addition to his parents, he was preceded in death by his wife of 50 years, Mary Griffith Williams; one grandson, Emory Thomas; six brothers, William Henry Newsome, Cledith Newsome, Bill Binion, Jack Todd, Joey Newsome and Steve Newsome; and two sisters, Cathy Newsome and Dolley Mae Newsome.

Emory is survived by four sons, Jerry Williams (Peg) and Joseph Williams (Candice), both of Carter, Kentucky, Robert Williams (Carol) of Grayson, Kentucky and Jeffery Scott Williams (Dawna) of Rush, Kentucky; two daughters, Patricia Thomas (Clifford) and Tabitha Welch (Bryan), all of Carter, Kentucky; 15 grandchildren; 16 great grandchildren; one brother, Stanley Newsome of Bellefonte, Kentucky; and one sister, Althia Chambers of Guntersville, Alabama. He also leaves many other family members and friends who will sadly miss him.

Funeral services will be held at 10 a.m. Wednesday, July 31, 2019, at Globe Funeral Chapel in Olive Hill, Kentucky, with Brother Chris Hammond and Brother Danny Clarkston officiating. Burial will follow in the Williams Cemetery in Grayson, Kentucky.

Friends may visit from 5 p.m. to 9 p.m. Tuesday, July 30, 2019, and after 9 a.m. Wednesday at Globe Funeral Chapel, 17277 West Highway US 60, Olive Hill, Kentucky 41164.

Family and friends will serve as pallbearers.