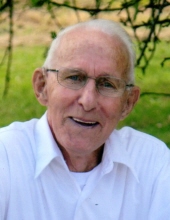 Obituary for Earl Gilliam
Mr. Earl Gilliam, age 94, of Olive Hill, Kentucky, passed away Saturday evening, November 2, 2019, at St. Claire Healthcare Center in Morehead, Kentucky.

He was born September 25, 1925, in Carter County, Kentucky, a son of the late Arthur and Ada Qualls Gilliam.

Earl was a member of the Church of Christ in Carter City and he enjoyed hunting, gardening his sweet potatoes, telling stories and spending time with his family and friends.

In addition to his parents, he was preceded in death by his wife of 56 years, Lora June Gilliam Gilliam; one infant son, Joseph Gilliam; two brothers, Chester Gilliam and Clayton Gilliam; one sister, Burtle Rose; and one son-in-law, Donnie Butler.

Earl is survived by three sons, James Arthur Gilliam (Jackie), David Gilliam (Anita), and Earl D. Gilliam (Angie), all of Olive Hill, Kentucky; one daughter, Earlene Gilliam Butler of Vanceburg, Kentucky; four grandchildren, Leanna Daniel (Ryan) of Morehead, Kentucky, Sarah Cantrell (Dylan) and Jacob Earl Gilliam, all of Olive Hill, Kentucky, and Sandy Nolan (Tony) of Emerson, Kentucky; and four great grandchildren, Deacon Daniel, Kaydence Daniel, Adalyn Cantrell, and Haley Nolan. He also leaves many other family members and friends who will sadly miss him.

Funeral services will be held at 11 a.m. Wednesday, November 6, 2019, at Globe Funeral Chapel in Olive Hill, Kentucky, with Brother Lonzo Horsley. Burial will follow in the Gilliam Family Cemetery on Webb Ridge in Olive Hill, Kentucky.

Friends may visit from 6 p.m. to 9 p.m. Tuesday, November 5, 2019, and after 9 a.m. on Wednesday, at Globe Funeral Chapel, 17277 West Highway US 60, Olive Hill, Kentucky.

Jacob Earl Gilliam, B.J. Parker, Ryan Daniel, Tony Nolan, Glen Kitchen and Dylan Cantrell will serve as pallbearers.