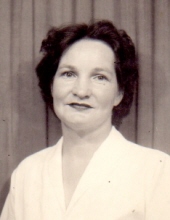 Obituary for Doris Lou Riley Presley Brown
Mrs. Doris Lou Riley Presley Brown, age 89, of Vanceburg, Kentucky, passed away Wednesday morning, November 21, 2018, at Vanceburg Rehabilation Care Center in Vanceburg, Kentucky.

She was born February 22, 1929, in Muncie, Indiana, a daughter of the late, Edward and Artie Bullens Riley.

Doris was of the Pentecostal faith and she enjoyed reading her Bible, Amish and Christian books, going to church and spending time with her family.

In addition to her parents, she was preceded in death by her husband first husband, James Presley; her second husband, Roy Harrison Brown; three daughters, Mona Lisa Brown, Debra Kidwell, and Connie Puckett; two granddaughters, Yvonda Schneider and Jessi Royse; four brothers, Johnnie Riley, Donnie Riley, Tom Riley and Edward Riley; six sisters, Dorothy Riley, Jeanie Riley, Marie Brown, Mildred Riley, Easter Riley and Edna Banks; one daughter-in-law, Mary Presley; and her companion, A.J. Hardy.

Doris is survived by three sons, James Presley of Vanceburg, Kentucky, Charles Presley (Sylvia) of Lake View, South Carolina, and Donald Presley of Indianapolis, Indiana; three daughters, Mildred Carpenter (J.T.) of Richmond, Kentucky, Susan Johnson (Kenneth) of Vanceburg, Kentucky, and Kay Lewis (Doug) of Wallingford, Kentucky; 24 grandchildren; 34 great grandchildren; and 19 great-great grandchildren. She also leaves many other family members and friends who will sadly miss her.

Funeral services will be held at 11 a.m. Tuesday, November 27, 2018, at Dickerson Funeral Home in Vanceburg, Kentucky, with Brother Arthur Moore and Brother Daniel Miller officiating. Burial will follow in the Adams Plank Cemetery in Rowan County, Kentucky.

Friends may visit from 6 p.m. to 8 p.m. Monday, November 26, 2018, and after 9 a.m. on Tuesday at Dickerson Funeral Home, 110 West Second Street, Vanceburg, Kentucky 41179.

Zach Himes, David Blankenship, David Monty Blankenship, Michael Howard Jr., Roy Himes, and Blake Johnson will serve as pallbearers.