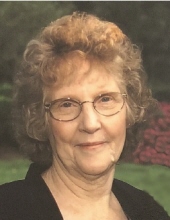 Obituary for Delores Addie Fetters Johnson
Mrs. Delores Addie Fetters Johnson, age 84, of Batavia, Ohio, formerly of Vanceburg, Kentucky, passed away Wednesday, October 3, 2018, at Bethesda North Hospital in Cincinnati, Ohio.

She was born February 23, 1934, in Lewis County, Kentucky, a daughter of the late Charles and Georgeann Shively Fetters.

Delores was of the Christian faith and enjoyed shopping, cooking, traveling and spending time with her family.

In addition to her parents, she was preceded in death by one daughter, Debbie Lewis; one granddaughter, Tiffany Johnson; one brother, Delphin Fetters; and two sisters, Virginia Tomlin and Wanda Hughes.

Delores is survived by her husband of 64 years, William E. Johnson; two sons, William A. Johnson (Caryl) of Amelia, Ohio and Wayne E Johnson (Brenda) of Lawrenceburg, Indiana; three daughters, Sandy Johnson of Independence, Kentucky, Tracie Rolsen (Chris) of Cincinnati, Ohio and Dreama Cosgrove (Luke) of Mason, Ohio; nine grandchildren; 16 great grandchildren; one son-in-law, Ken Lewis of Bethel, Ohio; and one sister, Charlene Cook (Bud) of Vanceburg, Kentucky. She also leaves many other family members and friends who will sadly miss her.

Funeral services will be held at 2 p.m. Sunday, October 7, 2018 at Dickerson Funeral Home in Vanceburg, Kentucky with Brother Norman Potter officiating. Burial will follow in the Lewis County Memory Garden in Vanceburg, Kentucky.

Friends may visit from 12 noon to 2 p.m. Sunday, October 7, 2018 at Dickerson Funeral Home, 110 West Second Street, Vanceburg, Kentucky 41179.

Scott Johnson, Cody Rolsen, Tim Klanke, Annie Ruedger, Justin Klanke and Ryan Cosgrove will serve as pallbearers.