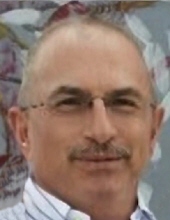 Obituary for Dana Vincent Wallingford
Mr. Dana Vincent Wallingford, age 64, of Lexington, Kentucky, passed away Wednesday, July 31, 2019, at the home of his long term partner, William Knox Haynes. Dana bravely fought an aggressive cancer these last six months. He was in the loving care of his partner, Knox and his sister, Mellanie, from diagnosis through his final moments.

He was born September 8, 1954, a son of the late Walter and Kathleen Tully Wallingford.

Dana recently retired after a 38 year career with Dialysis Clinic, Inc., Lexington, KY. He was a graduate of Maysville High School and the University of Kentucky, Class of '76, a lifetime member of the UK Alumni Association, an avid Wildcats basketball fan and a Kentucky Colonel. Dana was a passionate gardener who was an active member in the local chapter of the Wild Ones Organization which encourages the creation of gardens that sustain bees, butterflies, moths, birds and other wildlife with native plants. His cottage style garden and the butterflies he so patiently raised are a testament to his dedication to environmentalism. Dana was very proud to have been associated with the committee that brought the first Pride Festival to downtown Lexington. He also loved gourmet food, a fine bourbon and travel, all of which he had extensive opportunities to enjoy these last 10 years with his partner.

When receiving a terminal diagnosis, Dana decided to be joyful about having had a full life, rather than sad about having to die. He frequently found himself in the position of needing to console those of us who so deeply mourn his passing. We won't debate his wisdom or bravery at facing his end but instead hope to emulate his example.

Dana's family and partner wish to thank the numerous friends who provided love, support and food during Dana's illness. They also wish to thank the wonderful staff at Bluegrass Care Navigators.

He is survived by his partner, William Knox Haynes, Lexington, KY, his siblings, Mellanie Clayton, Louisville, KY and Martin (Genevieve) Wallingford, Vanceburg, KY, his uncles, John (Linda) Wallingford, Vanceburg, KY and William Applegate, Tollesboro, KY, nieces Ashley Cogan, Vanceburg, KY and Michaela (Benjamin) Bradshaw, Covington, KY, nephew, Wesley Wallingford, Vanceburg, KY and great-nephew, Christopher Cogan. He also leaves many other family members and friends who will sadly miss him.

A memorial service will be held at 2 p.m. Sunday, August 4, 2019, at Tollesboro Funeral Home & Cremation Services in Tollesboro, Kentucky, with Brother Mike Stephenson officiating.

Friends may visit from 12 noon to 2 p.m. Sunday, August 4th, 2019, at Tollesboro Funeral Home & Cremation Services, 11918 Kentucky Route 57, Tollesboro, Kentucky.

Following Dana's memorial service a dinner will be held at Tollesboro Lions Club.

In lieu of flowers, donations to Wild Ones National (www.wildones.org) or Bluegrass Care Navigators (hospice) would be appreciated.