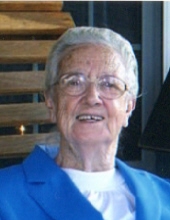 Obituary for Charmie Middleton Mabry
Mrs. Charmie Middleton Mabry, age 94, of Olive Hill, Kentucky, passed away Sunday morning, July 14, 2019, at South Shore Nursing and Rehabilitation Center in South Shore, Kentucky.

She was born August 15, 1924, in Carter County, Kentucky, a daughter of the late Charlie and Nellie Holbrook Middleton.

Charmie was a member of the Ross Chapel Christian Holiness and she enjoyed quilting, canning, cooking, gardening, farming and spending time with her family and friends.

In addition to her parents, she was preceded in death by her husband of 56 years, Alvin Mabry; one daughter, Betty Mabry; one great granddaughter, Paige Yarman; four brothers, Bill Middleton, Harve Middleton, Robert Middleton, and Lloyd Middleton; and four sisters, Peachie Reynolds, Goldie Middleton, Helen Middleton, and Dell Jessie.

Charmie is survived by one daughter, Louise Norris (Wayne) of Columbus, Ohio; one grandson, Keith Yarman (Cindy); one great grandson, Chase Yarman (Kristin); and three great-great grandchildren, Karter Yarman, Carson Yarman, and Cylas Yarman. She also leaves many other family members and friends who will sadly miss her.

Funeral services will be held at 1 p.m. Thursday, July 18, 2019, at Globe Funeral Chapel in Olive Hill, Kentucky, with Brother Terry Dean and Brother Kenneth Reynolds officiating. Burial will follow in the Clay Cemetery in Olive Hill, Kentucky.

Friends may visit from 11:30 a.m. to 1 p.m. Thursday, July 18, 2019, at Globe Funeral Chapel, 17277 West Highway US 60, Olive Hill, Kentucky 41164.

Charmie's nephews will serve as pallbearers.