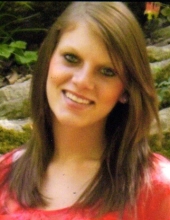 Obituary for Brittany Larae Reynolds
Brittany Larae Reynolds, age 23, of Olive Hill, Kentucky, passed away Saturday, September 22, 2018, at the University of Kentucky Bluegrass Hospice Care Center in Lexington, Kentucky.

She was born December 27, 1994, in Morehead, Kentucky, a daughter of Jamey Goodan and Tyronia Ann Reynolds.

Brittany was a Christian and was a homemaker. She enjoyed riding horses, dancing, sports and spending time with her family.

In addition to her parents, she is survived by her companion, Billy Goodman of Morehead, Kentucky; one daughter, Raelynn Shay Goodman of Olive Hill, Kentucky; one brother, Cody Reynolds of Olive Hill, Kentucky; her maternal grandparents, Larry and Teresa Reynolds; her aunts and uncles, Kellie Reynolds, Sonya Reynolds, Shawn Reynolds, Irma Reynolds, Johnny and Marcella Lambert, Cheri and Ricky Blevins, Jerry and Pamela Middleton, Elsie and Charles Sparks, Earlene Gollihue, Brenda Reynolds, Sharon Young and Wesley Reynolds; and cousins, Destiny Tomlin, Rebecca Tomlin, and Payton Reynolds. She also leaves many other family members and friends who will sadly mourn her passing.

Funeral services will be held at 2 p.m. Thursday, September 27, 2018, at Oney-Henderson Funeral Home in Olive Hill, Kentucky, with Brother Ricky Blevins, Brother Gary Sparks and Brother Jimmy Barker officiating. Burial will follow in the Olive Hill Memorial Park in Olive Hill, Kentucky.

Friends may visit from 5 p.m. to 9 p.m. Wednesday, September 26, 2018, and after 9 a.m. on Thursday at Oney-Henderson Funeral Home, 145 Gearhart Street, Olive Hill, Kentucky 41164.

Ricky Blevins, Jerry Middleton, Johnny Lambert, Billy Goodman, Bill Lambert and Dave Thomas will serve as pallbearers. Larry Reynolds, Cody Reynolds and Shawn Reynolds will serve as honorary pallbearers.