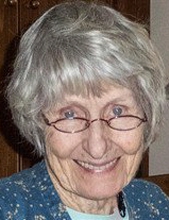 Obituary for Betty Louise Tackett King
Betty Louise Tackett King, age 86, of Waynesville, passed away Monday, April 22, 2019 at Ohio Living Quaker Heights in Waynesville.

Betty graduated from Olive Hill High School in KY, and after living at home for several years to assist in the raising of her siblings, she enrolled in college and received a Bachelor's Degree in English from Morehead University and a Master's Degree in English from the University of Kentucky. She was the first of her family to graduate high school and attend college. She taught English at Wayne Local Schools for 35 years. Due to academic leadership and exemplary service in the area of language arts, Mrs. King was inducted into the Wayne Local Schools Academic Hall of Fame.

Elegant, gracious, brilliant, and deeply spiritual, Betty loved her students, family, and friends deeply. She greatly enjoyed quilting, reading, writing, gardening, and the arts. She loved visual arts, drama, and music, and almost all of her students were introduced to the arts via her involvement with the Muse Machine. In addition, she was a National Writing Project fellow and docent of the Dayton Art Institute. Over the years, she and her husband enjoyed participating in the bowling league with other teachers and administrators, traveling with friends, and organizing family get-togethers. She will be especially remembered for her enthusiasm for the game of Euchre, her passion of giving gifts to others, and the love and care she had for her beloved Westies.

She was preceded in death by her husband, Allen, in 1994; her parents Jack and Eva Tackett; one brother Glenmore Tackett; and three sisters Alma Tackett, Zelma Frodge, and Naomi Stepping. She is survived by six siblings Madge Morrison, Philip (Addie) Tackett, G.J. (Rosemary) Tackett Jr., Paul Tackett, Joy (Larry) Gooding, and Linda (Robert) King; Goddaughter Arlinda Blake; and a host of beloved nieces and nephews.

The family will receive friends from 10:30 to 11:30 AM Friday, April 26, 2019 at the Olive Hill Wesleyan Church in Olive Hill, Kentucky, with a funeral service following at 11:30 AM, with Chaplin (1 LT) David Gooding officiating. Burial will follow in Garvin Ridge Cemetery in Olive Hill, Kentucky.

Globe Funeral Chapel in Olive Hill, Kentucky, is caring for all arrangements for Betty Louise Tackett King.