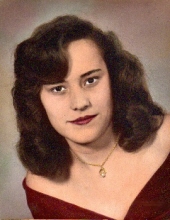 Obituary for Virginia Mae Gardner Brothers
Mrs. Virginia Mae Gardner Brothers, age 75, of Vanceburg, Kentucky, passed away Monday evening, October 2, 2017, at her residence.

She was born April 1, 1942, in Gallipolis, Ohio, a daughter of the late Raymond W. and Elva Mae Fooce Gardner.

Virginia was a Avon Representative for 35 years and retired from the Eagles Club. She was a dedicated wife, an avid Elvis fan, and enjoyed shopping, going to flea markets, and loved spending time with her family and friends especially her great grandchildren.

In addition to her parents she was preceded in death by her husband, Phillip Brothers, and one brother Luther Gardner.

Virginia is survived by one son, Raymond Leslie Brothers of Bay Minnette, Alabama; one daughter, Phyllis Brothers of Portsmouth, Ohio; four grandchildren; five great grandchildren; one brother, George Gardner of Bucyrus, Ohio; and four sisters, Francis Tackett of Garrison, Kentucky, Nancy Altvater of Vanceburg, Kentucky, Betty Vanbuskesk of Meeker, Ohio, and Ellen Baldwin Slaven of Pocatello, Idaho. She also leaves many other family members and friends who will sadly miss her.

A Celebration of Life service will be held at 3 p.m. Sunday, October 8, 2017 at Dickerson Funeral Home in Vanceburg, Kentucky with Brother Ben Collier officiating. Burial will follow in the KY Veterans Northeast Cemetery in Greenup, Kentucky.

Friends may visit from 2 p.m. to 3 p.m. Sunday, October 8, 2017 at Dickerson Funeral Home, 110 West Second Street, Vanceburg, Kentucky 41179.